None of the big streaming platforms are buying documentaries now because people are so scared in their personal lives
Challenges for the film industry and festivals in the age of the coronavirus
Our May interview offers three different perspectives on three different festivals and industry events with three different situations and schedules. Tereza Šimíková (TŠ) is the head of CPH:FORUM at Copenhagen International Documentary Film Festival CPH:DOX, which took place online from the 18th of March to the 29th of March, right after the lockdown due to the pandemic. Pierre-Alexis Chevit (PAC) is the head of Cannes Docs at Marché du Film of Festival de Cannes, which took place online from the 22nd of June till the 26th of June. Last but not least, Jarmila Outratová (JO) is the head of the Industry Office at IDFF Ji.hlava, which will take place from the 29th of October to the 1st of November. Two events are already finished, and one is coming up. What are the challenges for the film industry in the age of the coronavirus?


Could you tell us about your most up-to-date experiences of the festival event you co-organize(d)? What did, or will your event look like?
TŠ: Until a week before our festival, CPH:DOX, we thought we were preparing a physical event. A few weeks before March 18th, which was the start of the festival, our guest list started to get thinner, and people stopped travelling and were increasingly scared of the virus. We didn't really know until the very last moment how to react, because we wanted to protect people's health, but at the same time we wanted to stand behind our promise to filmmakers who were preparing their pitches and speakers of the conference. There were two thousand people who had bought industry badges, the audience that had bought tickets for the cinema screenings, and so forth. A week before the festival should have started, Denmark was locked down as a pandemic precaution, and so we decided to move the entire event online as the first major international festival to do so. Before us, South by Southwest (SXSW) fell through. It was supposed to take place three weeks before CPH:DOX, but it's only now moving online. So there wasn't really any precedent, and there was no time. So we tried our best in the week given to us to figure out what would be the right platform for the films to be shown, both internationally to the accredited guests and nationally to the audiences, how to translate industry events into the online space, and to what extent we could do CPH: CONFERENCE, CPH: FORUM, and then we ran with it.
So our big advantage was that we were thrown into the water and had to do it in no time, and therefore everybody recognized that we needed extreme support from the filmmakers, producers, and audiences. And we managed, so it was actually an incredibly recharging experience where the documentary community gathered in a very generous way, and everybody was full of energy and full of support, and people bought tickets. We actually reached the same audience as we would have at the physical event if we multiply the tickets we sold. In Denmark there were 66,000 tickets sold. One online screening 'ticket' could be generally used by an entire family, and therefore we counted it as an average audience of 1700 people. That's how we imagine the online festival to have been 'attended' by an audience of 115,000, which is our regular audience number. So it was great, and the support from the producers was amazing and was very needed because we of course didn't know how things would play out or if they would play out, and that was a bit of a punk experience, but with a lot of energy. We prolonged the festival significantly, so it not only ran for the originally planned 10 days, but for 6 weeks. Now the festival is over, and we are preparing the CPH: LAB, which is a training initiative which was supposed to kick off as a physical workshop in September, and we are trying to figure out what the format could be.

Tereza Šimíková during an online forum moderation in the times of COVID-19

Let's focus on industry. If I were a participant at CPH: FORUM, what I would do? Because normally I would travel to Copenhagen and see some pitches or have one-to-one meetings.
TŠ: What was kind of easy to move online for industry was CPH: CONFERENCE. We just had to adjust the times because you need to keep in mind that the speakers are travelling from all over the world. When somebody is waking up in LA, other people in China are going to bed, and we tried to match them all as speakers of the same event, which informs the timeline. We defined hours which were ok for both extremes – some people started at 6 in the morning, and some finished after midnight. Speakers would connect to the conference through software called WebinarJam, and we would live stream the conference to our Facebook stream and to YouTube, which was actually unblocked for the international audience. It was kind of an interesting experience because we reached a different audience than we normally would have. It was no longer only available for accredited guests, but for everybody who was interested. So there were some talks, like that one with Edward Snowden, that had 11 thousand viewers the day of the stream, and since then I think it's 150 thousand more, as people are still watching the content online.
The big thing was how we could move CPH:DOX FORUM online, and I don't think anybody has a recipe for that yet. Since then I've participated in a pitch for Visions du Réel, and I'm now preparing a pitch for Chicken & Egg Pictures for Sheffield. The problem is that online pitches are, production-wise, basically like streaming Eurovision. You have people everywhere from Taiwan to China, you have five-minute windows, three different people have to talk, then you have to show the clip from the film and you have to have a reaction from a panel, which is a production nightmare. Moreover, at the time when we went in, the internet was completely overloaded. Everybody was on ZOOM because the whole world was locked down, so everything crashed, and the platforms couldn't really handle the internet traffic. We were talking with the world's biggest platforms and companies, and they weren't really able to provide us with a platform that would be stable enough – meaning that all 400 people from the FORUM participants would be able to take part in the pitches actively and that it would be secure. Now the most secure channel for live streaming a video is YouTube, but YouTube claims ownership over uploaded materials, which is of course unacceptable in the case of the forum. You can show videos on ZOOM, but the video is unstable. During the week, Thessaloniki Festival had a pitch without trailers, and Nyon Visions du Réel ran a pitch that wasn't live and was all pre-recorded. Tribeca Short Pitch is trying to do it on Zoom, and with some level of internet it could work, especially in the US. And I am really eager to hear what Cannes is planning...
We didn't have the live pitches. We only provided kind of a meet market where we scheduled more than 900 individual meetings for almost 40 Forum projects. Regarding CPH:LAB, we had interactive project presentations, so that moved to a platform called Kaleidoskop, and that was also interesting because these projects have only a limited audience at the physical festival, but online you have the potential to reach a new audience, so there were 500 people watching these projects. Now we are figuring out how we can preserve some elements for the future.
Comparing numbers, it was in some ways an even bigger audience because of the free access. But was it the same with regards to decision makers?
TŠ For us it was easy in a way because we were locked down literally a week before the festival. So aside from the fact that we had bought all the tickets and paid for all the hotel rooms, we had also secured all the decision makers. Not everybody was able to connect. Some people had the coronavirus themselves, and some of the decision makers couldn't take part, but that was a minority. And other companies like Netflix or the Sundance Institute or Hulu that would normally only send one person could now connect a specific person to a specific project, so we had a similar number of decision makers as we would have had at the physical event.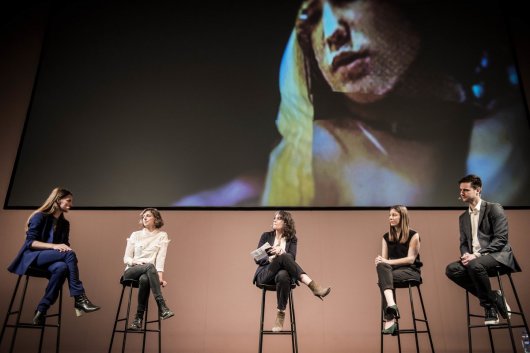 CPH:DOX 2019

Pierre-Alexis, what's your plan now, before the event? What will your event look like?
PAC: Until the middle of April the festival was still hoping to take place physically at the end of May or early June in Cannes – or half physically and half online. In mid-April president Macron said that there won't be any large gatherings of people till the end of summer in France. On April 18th we decided to go 100 percent online, so we had more time than CPH:DOX, Visions du Réel, or Hot Docs. We've struggled with the technical aspects – especially for pitching sessions. We are still trying to have a mix of live pitches through ZOOM and film clips which are not shown through Zoom desktop sharing because of the quality... but there is no easy solution. We are going to use ZOOM and Vimeo for a lot of things, including sometimes sending the ZOOM stream directly into Vimeo through which we could blend ZOOM and a live stream of material footage film. Mixing live elements and video clips is complex. It's not now completely clear how we will do it.
The industry has a mix of a certain level of curiosity and excitement to see how we are all going to deal with all of that. I hope that everybody will understand that there are no miraculous solutions and that everybody will be good-minded about what we are all going to organize. All this opens great possibilities for involving people who would have never travelled to Cannes, and that's truly great. Generally speaking, Marché du Film will be an online platform – kind of a portal –through which a lot of different tools and apps will be connected and used depending on the activity – whether it is a webinar, online panel or conference, closed workshop, networking table in a smaller group, or online market screening.
Basically it will be a set of tools which will be connected to this online platform, and the whole idea is that everything will be transparent and flowing and as simple as possible for users, and that's a huge challenge. We are now trying to set up this environment and connect different technologies – two of the main ones will be Vimeo and ZOOM, but also Touch, which we were using already before and is a kind of match and meet app that enables setting online meetings in a simple way.
You both mentioned attracting a different kind of people. Maybe these online events will be more democratic for those who couldn't afford to go to Cannes, but now they can be part of it…
PAC: Absolutely! That's one of the upsides, for sure. Speaking from the industry side about decision makers and professionals, it's more than anything about just finding the time and resources to reach out to them, and a lot of them will be glad to be able to take part because they usually come and are curious. Another question is the policy regarding e-accreditations and how much they should cost. Should they cost anything at all? On the filmmakers' side, it's great that they can participate from all over the world. On the other hand, it's not that easy. There might be the cost of the badges, and internet connections are not the same everywhere, and you need to be sure they get the information, and if they decide to take part, how do you make sure that they get all this by just logging in to some virtual platform not knowing anyone – I mean especially emerging filmmakers without any network... It's a bigger challenge than usual for us to make ourselves available for these filmmakers to be able to use these online markets in a way that can be beneficial to them.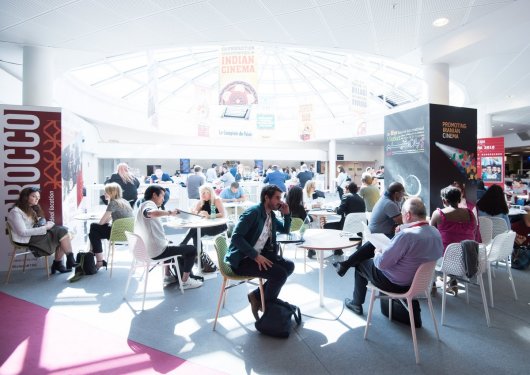 Marché du Film of Festival de Cannes in 2019

Tereza, what about newcomers? Do you have any feedback from them?
TŠ: It's certainly an issue. Internet is an innovation, and all of this moving of physical events online is both in theory and in its execution an innovation. But for the final outcome, the biggest risk is that it becomes simply a standardised process. It's so hard to make anything really new there, and this doesn't apply only to people who are filmmakers with new films and we don't know their faces, but it also applies to new ideas on films told in a way they hadn't been before. Because when you are on this kind of a tech-format platform, it is really hard to have the energy to listen to, commit to, and focus on something – to think creatively when you have this physical distance.
At CPH:DOX, we have a strong tradition of bringing in people from outside the film industry – from galleries, philanthropic foundations – but this requires a physical encounter between real people. This year, people from Open Society Foundations and the Bill and Melinda Gates Foundation were supposed to come to Copenhagen, but these people have never worked with film. They were supposed to see what film can do and how they could possibly think out of the box and work with filmmakers, but that was not really possible in one-to-one online meetings. That format is very easy and efficient for doing business as usual – especially if we know the routine – but enriching it with new things seems to be very difficult. And that is somewhat against the core values of documentary festivals – creative filmmaking has to be rich and has to be full of weirdos and inclusive for people who are coming from places we have never heard of and coming from social conditions that we have no access to.
Diversity is something we are eager to build and have put a lot of effort into, but the results are still so fragile – they could vanish with this change of format. If I hear: 'Oh this is the future, we are not going to fly people around the world,' then environmentally speaking, I'm glad, and I feel everyone's relief – I don't have to fly. Why can't just chat online? But that's just because we know each other. We had a lobby where people were chatting, but newcomers felt completely alienated.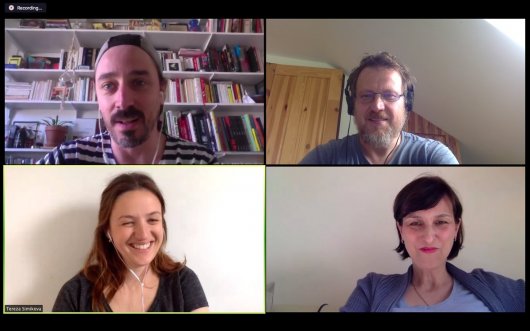 Online interview: Pierre-Alexis Chevit, Radim Procházka, Tereza Šimíková, Jarmila Outratová

PAC: One thing I want to do probably in a very minimalistic way is to keep the Cannes Doc corner where I try to have stuff for filmmakers to be supportive of them. I want to have kind of an online reception desk, though I don't know which technology to use. We would like to have some kind of a virtual space that's easy to get into with everything being helpful and nice and supportive. It's a huge issue. I think that is a paradox of this online world – one would think it opens all frontiers and barriers, but on the contrary, it just solidifies the community that already exists. Inclusivity and diversity, which in the last two or three years have become a huge challenge for all of us – for festivals and markets – is probably actually an even bigger challenge now.
It's not a really optimistic vision, Jarmila…
JO: We hope that by the end of October everything will go back to normal. This is one option and the version that we are preparing for – that we will meet physically and everything will be ok. We expect our guests from America will still have a problem with traveling in October, but European guests should be ok, let's hope. So this is the best version. But there could be a second wave of the pandemic, and we could all be locked down again, and then we would need to be fully online. The third version is a hybrid way of running the programme so that some people will be in Jihlava and some will be online. So we are preparing for all the options and researching the technical solutions – you can teach us the best way how to do it. Now we are searching and trying and testing to see what is possible and available. At the moment we are preparing four versions of the festival and three versions of the industry programme.
PAC: Are you still considering only on-site physical event?
JO: Yes, it would be the best option for us. We see there are some advantages to being online. I can see that for the industry programme such as pitches, it works well, but in Jihlava we don't have a pitching programme, so this is not the best option. Our programme is based on education and networking, and for both these programmes it's best to get together and to use the dynamic of the group to be able to discuss things and move forward. For Emerging Producers for example, it's obvious that we create friendships and personal relationships in person, but it would be demanding to do it online. We could do it if necessary, but it's difficult. The other concern is that it's difficult to focus and stay concentrated on these online activities. When I have the option to click and fast forward, it's much easier for me to do that than to watch one programme for two hours. Regarding watching films, there was some research done that out of all the views which are counted on the internet, only every seventh person watches the programme till the end. So it's hard to say what number of people are watching it and for how long.
TŠ: Exactly. The key takeaway from this is that a physical event going online means turning it into broadcast. Altogether it means we have become a TV studio. We had three computers and we were editing live. My experience from my second year FAMU exercise of live cutting a football match would work perfectly.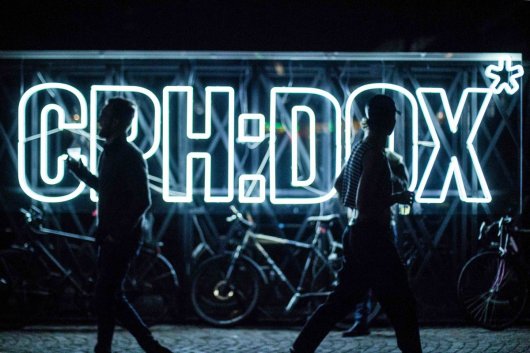 CPH:DOX 2019

It's different when you travel to a festival and you have to concentrate only on films and events at the festival, and you can stop your daily life. Being on the internet, you are not so concentrated on the festival or event itself.
TŠ: That's very important. Being there physically, available for watching films and discussions is something different from being just online in your office, doing your normal work, and on top of that taking care of your children and cooking, et cetera. How do we concentrate in this online world? This is a question for the future.
Are you now at home, at your home office?
PAC: Yes, but I've started to notice that decision makers started sending automatic replies even when they work from home – for example, attending some online festival. It struck me – should we all discipline ourselves and dedicate ourselves to the virtual event for a couple of days? Should we be in that spirit and not be available for anything else? We should do it if we want to do things right.
TŠ: Yes, but it is a different situation when you have children and home school them or you have older family members in quarantine...
On the other hand, for me as a producer everything stayed the same, except for travelling to festivals or going to school to teach. I normally have home office during the year. I guess it is the same for you during the year.
TŠ: For me, it was completely different. We were in lockdown preparing a festival. We couldn't see each other, and it was a crisis management experience – it was so sudden that I couldn't return to the office to get my papers. We couldn't go out in the streets. We were locked in our homes, and we had a week to do something enormous. There were decisions being made every minute somewhere, and it was a big task just to figure out the communication chain of the big festival team. Before the festival I couldn't imagine doing it from home.
PAC: For me, it doesn't change entirely in terms of sending and receiving e-mails, but it changes in terms of collective dynamics and coordinating with colleagues. Travelling to the festivals is a part of my job – a huge part. I can't meet decision makers I don't know yet in a proper way online. The other problem is mixing personal life and working life, of course.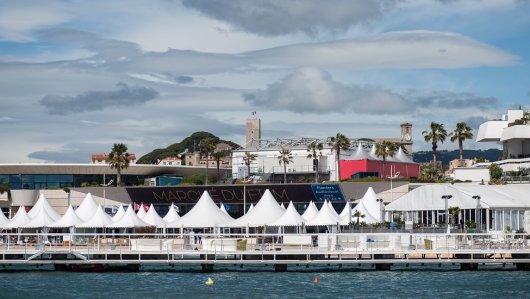 Marché du Film of Festival de Cannes – this year it will be online

Concerning emerging producers, are there fewer applications from the newcomers?
JO: There was the same number of applications as before. I am really glad that all these applicants believe they will come physically to Jihlava. Nobody knows at the moment. It could happen that some countries will be allowed to travel and some not, so it could be a combination of both – a physical and online event. We will do our best. We ask producers about the COVID-19 situation, and many of them say they are quite happy because there is no shooting planned, and they can concentrate on postproduction and develop new topics. The question is, how many new films will be about the coronavirus in the next two or three years.
TŠ: So many! I'm also working on another project with people from America, and we are on ZOOM all the time, and I can see the perceived atmosphere there is much more tense. Now we kind of live in times of frenetic denial. We tend to believe that it's going to be over very soon – that it's basically over. But the economy will be impacted so much that film will feel this shift for years. Private foundations are losing money for the next year, broadcasters are dependent on the sales of advertisements from private companies, film studios – they are all figuring out what will happen – even public film funds that are partially financed by ticket sales from cinemas. The whole system is threatening to collapse, which is going to impact us not this year, but next year. With Chicken & Egg Pictures we are now launching the call for development training, and the deadline is in June. We are thinking: should we still require trailers? How much do we want people to have done before March? We can manage this year being online, but next year is the big question for the film industry.
JO: Nobody knows at the moment, so we can't prepare.
TŠ: It's like in life. Every crisis makes all the problems clear. And this one, too – in personal life, social life, politics. Now we see what is not sustainable. It's a big shift.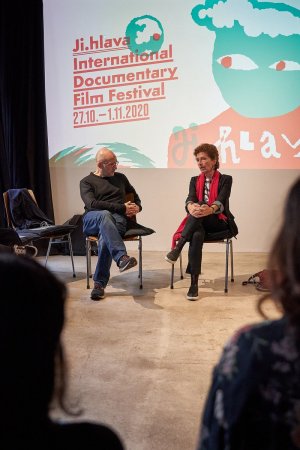 One of IDFF Ji.hlava industry activity, Emerging Producers at Berlinale 2020

On the other hand, there will be probably a bigger need for documentary or for deeper analysis because people will be wondering about it more.
TŠ: Now all the big streamers have stopped buying everything that is social justice or critical or documentary. They're basically just buying entertainment because people are so scared in their personal lives that the last thing they can think about is watching a dark, sad film about some problems. I think what's coming is the time of public service again. We will be very happy to have our public broadcasters because they will have the resources – and they are ready and aware of that. We had an opening event of the FORUM where Axel Arnö was talking about the plans of EBU. They are figuring out how to help producers with cash flow and try to incentivise co-productions. The public sector is going to rise strong from this, and we'll see what happens with all the rest.
That's maybe a bit more of an American point of view, because in Europe we are already so well-funded by these public resources – public TV, public funds – it's a permanent crisis with low budgets, so for us it's not such a new situation. The Czech Film Fund increased their budget with an extra call – 3 million euros. Most of it is supporting cinemas and distribution, but there are also some calls for development of new projects.