There's more than one feminism
A reflection on women documentarians inspired by Barbora Baronová's book Women on Women
The representation of women in the film industry is an important topic for film scholars, producers, festival organisers, and even newly founded initiatives (Film Fatales, Free the Work, The Topple List). A revision of the canonised version of the history of film that is told from the viewpoint of men and primarily takes into account men's contributions reveals that women were abundantly involved in film production from its very beginnings, as directors, producers, editors and screenwriters – albeit with limited opportunities to articulate their subjective experience. Retrospectively, women working in feature films are for now the most duly appreciated. Nevertheless, the point of a project like Women Film Pioneers is not to elevate one gender at the expense of the other, but rather to show that women were just as capable, clever, and inventive as men. There is no reason then for a certain profession to be connected only with the male segment of the population and for that segment to serve as the model of what, for example, director should look like.
In the process of uncovering the reality that the history of filmmaking is not merely the history of men, much less attention has been paid to non-fiction production – although even in the past women have found it much easier to find their place in this sector. This is perhaps due to the fact that production expenses for documentary films are generally lower and crews are smaller, and because, despite their greater social significance, documentaries are regarded as less prestigious. Feature film production carries with it more money and power, and therefore it is more tempting to try to keep one's position within its structure. At the same time, according to foreign research, the gender of the person in the leading position also plays a part in deciding the makeup of the rest of the crew. Female directors and producers are more likely to recruit women for other positions. In the example of Czech documentary film, it can also be observed that the mutual help and support networks in the documentary community function better than those in commercial feature film production.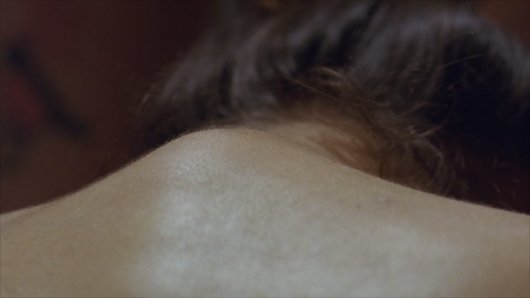 Bodies That Matter
Why women and documentary?
Several forms of public funding, a number of networking programmes, workshops, and grant programmes for the development and production of documentaries in no small part aid in the procurement of contacts and funding. One who does not hold a privileged position in the system can thus through documentary film find relative freedom and tell their own stories in their own voice. Considering the question of symbolic capital proves especially important in the case of documentary film. If one of the roles of documentaries is to map the state of society, we should not neglect to ask who does the mapping – from what position, with what opportunities, and with what measure of autonomy. This is the only way to uncover the blind spots in the way society is reflected in the medium of film and discover how closely this reflection mirrors our reality.
In recent years, the greater representation of women among documentarians has been apparent at every presentation of the Oscars or other awards. Of the five documentaries nominated this year for an Academy Award, four of them were directed or co-directed by women (American Factory [2019], The Edge of Democracy [2019], For Sama [2019], Honeyland [2019]). By contrast, in the entire 92-year history of the awards the number of women ever nominated for an Oscar for best director of a feature film is only one more, meaning a total of five. The exceptional qualities of documentaries made by women is usually explained somewhat essentialistically by the conjecture that women are more empathetic and perceptive listeners and that they can form a stronger connection with the people they are filming. Men supposedly push their egos into the foreground more and mainly want to tell stories that are important to them personally. According to this interpretation, women have less of a problem stepping back and allowing social actors to come to the fore.
But are women truly predisposed to making documentary films? Or is it that given the systemic circumstances, it is simply more viable for women to make documentaries, and their greater recognition in the field is merely the logical result of their greater representation. In order to better understand this dynamic, in the tradition of Bill Nichols we should ask who is speaking to whom about what and through what means and take into account the position of power, the context of the statement, and the possibility of what can be shared in the scope of a certain discourse. For the answers to these questions, the statements of individual creators will likely aid us more than any statistical data. And this is exactly what we can find in the book of interviews published last year, Women on Women (Ženy o ženách).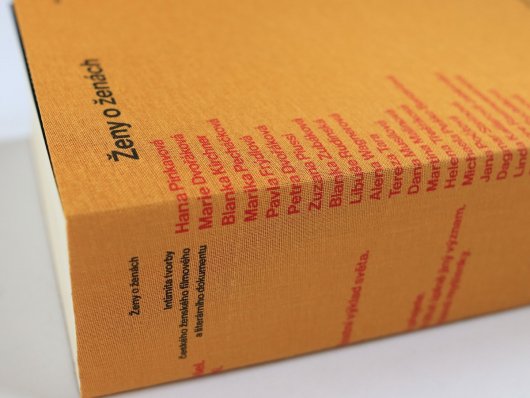 Women on Women. Repro: wo-men
A diversity of perspectives
The author of the book is literary documentarian and publisher Barbora Baronová. The photographs accompanying the interviews with each of the 29 representatives of film or literary documentary are the work of Dita Pepe. The publication, which came about as a part of Baronová's dissertation at the Faculty of Multimedia Communication at Tomáš Baťa University in Zlín, is in a certain regard groundbreaking, as until now there has been no similarly extensive survey dedicated to women in Czech documentary (there was, for example, the research project "Contemporary Czech Documentary Film," which took place at the Department of Film Studies at Charles University's Faculty of Arts from 2016 to 2019, but this study did not employ a gender perspective).
The book fits among certain foreign projects attempting to make a proper accounting of the contributions of women in certain professional fields and at the same time offers a rich oral history for other researchers trying to understand, for example, the specific position of women documentarians and what it says about the film industry today. Instead of giving us generalising reflections, which as a result can only reinforce certain gender stereotypes and narrow the spectrum of roles that women will be offered, we are provided with a colourful parade of stories and access to what these documentarians think about their work, their profession, and their position in society. While the interviews themselves are preceded by an introduction to the problems of feminist historiography, Baronová deliberately offers no summarising conclusion. She respects the diversity of viewpoints of the individual women and does not attempt to define "women's writing" or "women's themes".

"If one of the roles of documentaries is to map the state of society, we should not neglect to ask who does the mapping – from what position, with what opportunities, and with what measure of autonomy. This is the only way to uncover the blind spots in the way society is reflected in the medium of film and discover how closely this reflection mirrors our reality."

It is not the ambition of Barbora Baronová's book to arrive, on the basis of 29 sets of questions and answers spanning nearly a thousand pages, at a universal definition of "women's documentary film".
It is also not the ambition of this text, in which, using the answers and films of two respondents, I will examine two different ways from the great number of possible approaches to documentary film that a woman can through the medium – and contrary to the dominant discourse – speak for herself. I focused my attention on a pair of filmmakers, avowed feminists, with whom one can assume themes regarding women will be more strongly accented, and who will, in accordance with the title of Baronová's book, speak as women about women.
The first of them is Olga Sommerová, whom Baronová included in the book because, in her own words, "she is one of the strongest feminist voices in Czech documentary film." Baronová also linked the second selected documentarian, Martina Malinová, to feminism in the explication to her book Women on Women, published by dok.revue: "I invited Martina Malinová to join the project in her capacity as a feminist author of some more experimental films."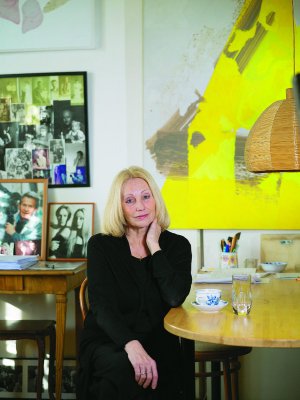 Olga Sommerová. Photo Dita Pepe

In the eighties, after studying documentary filmmaking at FAMU, Olga Sommerová first made social documentaries. Later on, film portraits of prominent figures became her area of expertise. She was always fascinated by bold women with complicated life stories who confronted the oppression of the regime and condemnations of society. A history of the ordinary with no great drama or heroism is not her area of interest, and in that she differs from her generational peer Helena Třeštíková, who, in her own words, attempts "to capture life around us in all its banality."1) . This often takes the form of Nazi or communist totalitarianism (Czech Student Uprisings [České studentské revolty, 2016], My 20th Century [Moje 20. století, 2005], Seven Lights [Sedm světel, 2008], Committee for the Defence of the Unjustly Prosecuted [Výbor na ochranu nespravedlivě stíhaných, 2018], The Lost Soul of a Nation: Loss of Faith [Ztracená duše národa: Ztráta víry, 2002]). In the narratives of Olga Sommerová's films, the sides of good and evil are usually clearly demarcated and separated.

Trailer / Červená

As Sommerová portrays them, women were, due to a deeply patriarchal system, unable to fully develop their talents, whether in writing (The Immortal Star Božena Němcová [Nesmrtelná hvězda Božena Němcová, 1997]), sport (Věra 68 [2012]), or singing and acting (Cervena [Červená, 2017], The Magic Voice of a Rebel [Magický hlas rebelky, 2014]); however, at the same time they never stopped resisting injustice. Sommerová sees the mediation of women's stories itself as a form of resistance against the dominance of stories told by men. As she says in the book, in her childhood she had no other option but to read books written by men, which at that time seemed normal to her. Her work offers a corrective in the form of a female point of view and gives an account of women's experiences. With it she aims to "awaken the awareness in women that they have the right to an equal life."2). She also gives preference to women due to the fact that she works with them "much better than with men."3) She enjoys speaking with women and easily finds common themes with them.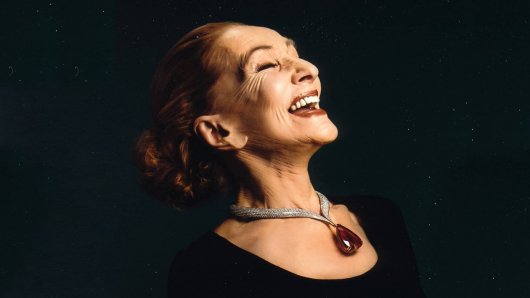 Cervena (Červená)

With the exception of her portrait of the thief Máňa (Máňa [1992] and Máňa Ten Years Later [Máňa po deseti letech, 2003]), which she perceives as an anomaly in her filmography that forced her to abandon certain principles (for example, the protagonist's authorization for the resulting film), Sommerová exclusively offers positive models – brave, fighting women, who do not give up hope. However, her selection of fundamentally positive heroes and heroines, whose occasional transgressions are ignored ("What do I care that a person who did something amazing has a few sins, and I don't mean the mortal kind.")4), is not motivated merely by the desire to increase women's self-confidence. In her interview, Sommerová cites the axiom of classic British documentarian John Grierson, saying that documentary film must serve humanity and democracy. Which is why it is acceptable to idealise women, and in some cases even men, and turn them into role models. From her interview and also her films, it is clear that Olga Sommerová is interested in people we can be proud of – the exceptional, not the ordinary.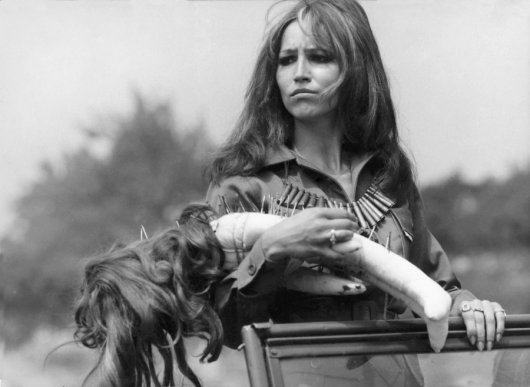 With regard to the stated thematic orientation, it is logical that Sommerová repeatedly picks stories that take place either completely or at least partially in the past. Her answers in her interview with Barbora Baronová also indicate that she considers the current conditions for women incomparably more favourable than those of the past. She associates the patriarchy's aggressive discrimination against women primarily with communism (which she supports, among other things, with her unpleasant personal experiences with Lubomír Jakeš, the former director of the production company Krátký Film). She feels that although women are still discriminated against, they are also more self-confident. They are more aware of their rights and their worth, and they are now more able to fight for their position both in society and in their families. According to Sommerová, even in her profession it is no longer hard for a woman to make it. This is thanks, among other things, to the fact that men supposedly do not flock to the medium: "Documentary film is absolutely a women's profession. No profit, no fame. For men, documentary is a kind of meagre profession. Men want money and worldly fame."5)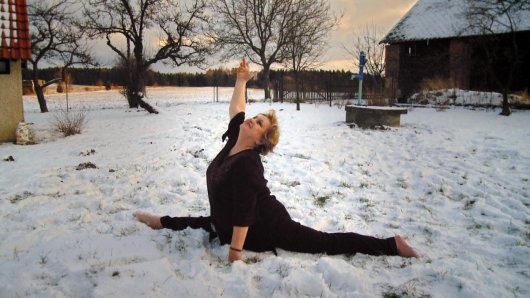 However, in Sommerová's view emancipation does not mean complete autonomy and life without a partner. From her perspective, fulfilment of a woman's roles above all requires family: "A woman comes first, because the family depends on her – and family is the foundation of the state. Thus women are the foundation of the state."6) In a different section of the interview, Sommerová expresses the thought that women "prefer life, love, relationships – that which is most fundamental in life."7). This understanding is reflected in her film Single Parents (Samoživy, 2015), one of the few that deviates from her series of portraits of extraordinary people. Granted she based Single Parents on the testimony of desperate single mothers (and one single father), but she depicts their lives without partners as a constant, exhausting struggle for a dignified existence. Only the few final minutes of the film are dedicated to a possible resolution to this trying situation, which could come from the side of the state. The majority of the time, however, the mothers remain in the position of victims arousing sympathy. The protagonists of her film What Women Dream Of (O čem sní ženy, 1999), based on the testimony of women with difficult lots in life, were obviously selected using similar criteria.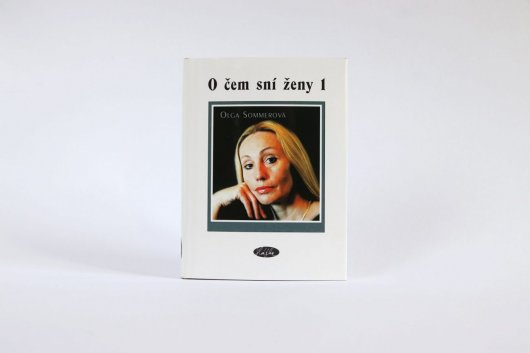 The book What Women Dream Of written by Olga Sommerová

As a documentarian, Olga Sommerová usually remains in the background and lets others speak. Her films do not explicitly reflect her own personal views. They can be seen mainly in her choice of themes and the method of their framing. It is also evident from the concept of the aforementioned documentary that the emphasis of her work is on the solitary strength of a person and the powerful drama of individuals rather than on the collective. Sommerová makes use of stylistic techniques typical of expository documentary – talking heads, archival footage, non-diegetic musical accompaniment. She does not attempt to undermine traditional narrative patterns, which are usually connected with the dominant ideology. She does not seek new meanings and explanations but rather keeps with the usual interpretations. Sommerová's documentary work also appears classical in that in terms of values, it follows in the footsteps of her partner Jan Špáta. Although the filmography of Olga Sommerová is rich in feminist motifs, her aim is clearly not to discover a language independent from the male discourse.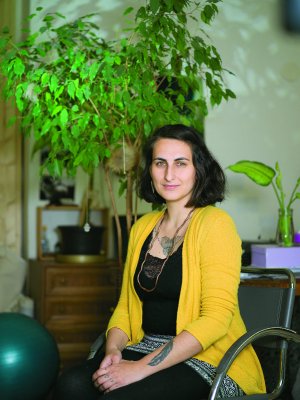 Martina Malinová. Photo Dita Pepe
A combination of participant observation and journalistic practice
Many signs of what some French feminists labelled women's writing (écriture féminine) can be found in the script of documentarian, activist, and poet, Martina Malinová. The difference in approach that sets her apart from Sommerová is immediately apparent. She usually steps in front of the camera, gets actively involved in the story, and reveals her position on the theme. She makes no attempt to hide her weaknesses and doubts about herself and also about the protagonists of her films (see the film Lets Block [Několik Let, 2014], in which she shows an unsuccessful blockade of a former pig farm in the town of Lety). She is not afraid to expose her body (in the "corporeal" feminist essay Woman Rose Song Bone [Žena Růže Píseň Kost, 2017]) or her worldview, no matter how radical it may seem (in the student film Thou Shalt Not Steal [Nepokradeš, 2013], in which she confesses to anti-establishment shoplifting). Instead of moving viewers with emotional stories and reassuring them with facts about which there is a consensus, she forces them adopt their own stance on ambiguous issues.

Malinová usually attempts to question the status quo with her films rather than preserve it, offering alternatives to the "official" interpretation. We could similarly characterise the films of Karel Vachek, her teacher from FAMU, who Malinová's says, despite her initial aversion, "inspires, fascinates, and entertains." 8). Aside from documentary film at FAMU, Malinová also studied social anthropology, media and communication studies, and journalism. It was only in documentary film, which she describes as "a combination of participant observation and journalistic practice" 9), that she discovered a platform allowing her to incorporate her knowledge from individual fields.

Thou Shalt Not Steal

This activist element is prominently represented in her custom-made documentaries for programmes on Czech Television, for example Watch Out! (Nedej se!), Mark of the Times (Otisky doby), and Queer. In contrast to her more experimental student films, for example the wild, nude, motion picture poem Bodies That Matter (2017), Malinová labels these works as "narrative TV documentaries that normal people watch." In them she focuses on such issues as homeless women (Watch out!: Unprotected Women [Nedej se! Ženy bez ochrany, 2016]), feminism (Queer: There's More Than One Feminism [Queer: Není jeden feminismus, 2017] and Queer: Footprints of Brno's Feminism [Queer: Stopy brněnského feminismu, 2018]), queer poetry (Queer: Poetry Has No Body [Queer: Poezie nemá tělo, 2018]), property seizure (Watch Out!: How Distraint Happens [Nedej se! Jak se peče exekuce, 2015]), and rape (Mark of the Times: Six Myths About Rape [Otisky doby: Šest mýtů o znásilnění, 2018]).

Bodies That Matter

However, as the director confides in Baronová, she already feels so comfortable and self-assured in activist film that she has stopped enjoying it. This thought could be related to the fact that she is only at the beginning of her directing career and is still searching for her style (after all, she says herself that at any given moment she looks completely different, as do her films). Yet at the same time this statement reflects the form of Martina Malinová's films – they do not present authoritatively polished truths, but rather capture examinations of a certain theme as well as the author's own self-discovery and clarification of her position on the subject she is filming. For example, Malinová considers feminism, a theme we could associate with the majority of her filmography up to now, to be a topic about which she has already said all she wants, and therefore she has no need to address it any further with her films (though she adds that this in no way means that she will stop working for women's equality or questioning men's values).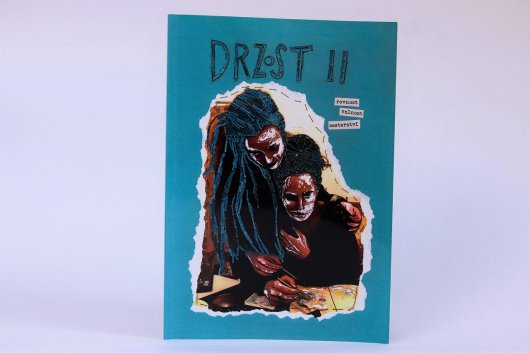 Fanzin Drzost II (2017)
It has nothing to do with gender
As Malinová says in the book, in the beginning she sought her own womanhood through her films because she felt that she lacked the "ability to develop her female side." Then she realised that she could have both male and female sides in balance. It is clear from her interview that, as opposed to Sommerová, she does not see gender identity as a fixed category to which we can ascribe certain characteristics, but more as a fluid and changing concept – constant negotiation and searching for where we fit. She also doesn't see the male and female worlds as distinct spheres in the scope of documentary cinematography. According to Malinová, the difference does not lie in whether a particular film was made by a man or a woman, but rather in what kind of person the author is: "Each of us is a different person, and that's why I have different approaches to my work. It has nothing to do with gender."10)

Lets Block

Malinová admits that her style differs from that of directors such as Erika Hníková, Helena Třeštíková and Olga Sommerová, but her reasons for deciding to make films about women are similar: She likes to create space for women because they usually don't have much. However, it's clear from the thematic direction of her films that she considers the disadvantages women face today to be a pressing matter which is still far from resolved. At the same time, she doesn't focus only on women who have done or experienced something extraordinary, but she does indicate that in the future she would like to devote more attention to people "who are a step ahead of us, who can inspire us."11). However, from her existing work we can see that what interests her more than great stories and myths are the things with which she has personal experience. Thus far she has chosen social actors based not on whether they are well-known figures, but rather on whether they have anything to say about a given topic.
Martina Malinová's work often makes statements about women as a collective with shared experience, facing similar forms of oppression. Women's groups fighting for societal change are close to her heart, and she sees them as one of the paths toward disruption of the patriarchal structure. A returning theme in her filmography is, following in the main lines of feminist thought, the question of the dominance and power men have at their disposal in certain situations, whether it be as distrainors, judges, or rapists. The imaginary archnemesis here is not Nazism or communism, but, more broadly, the culture of a privileged social group which promotes competitiveness at the expense of solidarity.
Women's togetherness, intergenerational collaboration, and the search for female models and platforms are themes that, unsurprisingly, repeat throughout Women on Women. Each of the filmmakers briefly introduced above offers, both in the book and in her work, a different answer to the question of how it is possible to express subjective female experience and identity through the medium of film – how it's possible to resist power structures and their methods of narrativizing life experiences. Simply as women making films dedicated to women, Sommerová and Malinová are contributing to the liberation of women from positions defined by men or in relation to men and are opening new paths for women to represent themselves. With their films both directors create spaces in which feminist questions can be considered and contemplated through the words and bodies of women. Each of them does so in such a different way, based on various life experiences, sociocultural frameworks, and political beliefs, that together they prove the title of one of the above-mentioned documentaries to be true – there's more than one feminism. Using a number of other inspiring examples, Women on Women shows that the same diversity is characteristic of all our women documentarians and their work.

Translated by Brian D. Vondrak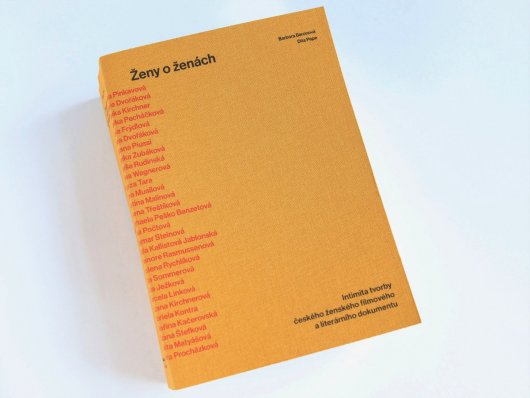 Women on Women. Repro: wo-men

Translated by Brian D. Vondrak
---
Notes
1) Baronová, Barbora, Ženy o ženách. Praha a Zlín: Nakladatelství wo-men a Univerzita Tomáše Bati ve Zlíně, 2019, s. 516. Czech edition.
2) Ibid., s. 724.
3) Ibid., s. 721.
4) Ibid., s. 720.
5) Ibid., s. 728.
6) Ibid., s. 724.
7) Ibid., s. 721.
8) Ibid., s. 458.
9) Ibid., s. 457.
10) Ibid., s. 477.
11) Ibid., s. 474.