The times of lifelong careers are over
An interview with documentarian Jindřich Andrš, whose film A New Shift won the Czech competition section Czech Joy at Ji.hlava IDFF2020.
Four years ago documentarian Jindřich Andrš piqued the interest of our jurors at Ji.hlava IDFF with his short film The Last Shift of Thomas Hisem (2017), in which, with the help of a camera mounted on the helmet of coal miner Tomáš Hisem, he brought us an authentic testimony from the depths of the Paskov mine, which was subsequently shut down. Hisem and many other miners were then forced to search for new jobs. In his feature length debut, A New Shift, Andrš follows Hisem on his journey through the complicated retraining process, the pitfalls of the job market, and the confrontation between the miners' world and the modern one. This film inaugurated the 24th year of Ji.hlava IDFF, where it won the Czech competition section Czech Joy.
---
At Ji.hlava in 2017 you presented your documentary The Last Shift of Thomas Hisem, in which a miner, using a GoPro camera attached to his helmet, captured his final shift in the Paskov mine, which was then closed. The jury awarded it with a Special Mention for its minimalist treatment, radicality, and unique authenticity. Three years later you bring us A New Shift, which builds on the previous film and follows Hisem in the process of retraining from coal mining to IT work. When did you realise you wanted to expand The Last Shift into a feature length documentary?
I first learned about the retraining course for the Paskov miners from the magazine Respekt, where they wrote that a project was planned to enable miners to retrain as computer programmers. We began filming in 2017, before the closure of the mine. We negotiated with the Ostrava-Karviná mining company for a long time, but it was difficult. The miners were angry, and the safety situation was complicated. They didn't allow us to go down into the mine. We could only film on the surface. Then Tomáš suggested that he could try to film something underground himself. We installed a GoPro camera and a microphone into his helmet, and then he successfully smuggled them in for his last shift. The goal was to capture the work underground – its physicality and the miners' communication. When Tomáš returned, we realised we had something unique. At first, we only planned to use about five minutes of the footage in our already emerging portrait of Tomáš because the film originally arose as a second-year project for my studies at FAMU. But Tomáš came back out of the pit with about four hours of material, and so in the end we decided to cut a separate film from that alone.
Did you initiate Tomáš into any kind of directorial techniques in The Last Shift? For example, did you explain to him beforehand what you wanted to "dig up"?
Yes, we wanted to film the descent by elevator into the mine, and we gave Tomáš some basic instructions. But his commentary as a "tour guide" came about spontaneously. It had a charming but powerful effect. Coincidentally there was also an accident during that last shift, which hadn't happened there for about a year and a half.

Other miners also took part in the retraining course. Why did Tomáš Hisem catch your interest?
I got hold of some questionnaires given to the miners and used them to do a sort of mini casting. One of the questions inquired about the miners' relationship to computers, and I read Tomáš Hisem's response: "Well, good, I guess, if a person can have a relationship with a machine." I thought, if someone who'd been working down in a mine for more than twenty years had come up with that, I had to meet him. Tomáš immediately captured my attention with his authenticity and genuineness. He also had a distinctive look, for example with his long hair. When I told him about my intentions for the film, we hit it off, and he was all for it. Then we got to know each other better, and I went to visit him in Ostrava a few times.
A New Shift is a time-lapse documentary in which you observe Hisem in a difficult and delicate stage of his life. Aside from the complicated retraining process, you also show his hardships, his pitfalls in the job market, his search for work, and his joint custody situation. How did your relationship develop over the course of filming?
Originally, we thought we would only shoot for six months, but the filming went on for over two years.

"The length of the project put a huge strain on Tomáš – we captured some of his pivotal moments, for example his first job interview. One of the hardest tasks for me as a director was to find the line: how much pressure can I put on him?"

There were moments when Tomáš wanted to walk out on the whole project. Over time I realised that I needed to change my approach and be completely frank with him about my intentions. Aside from our working relationship, our friendship off camera also developed naturally. In the beginning it was hard to find things to talk about because I was a film student from Prague, whereas he was a coal miner from Ostrava. But due to the retraining course, we eventually found more and more common ground. We talked about the IT sector and the job market, which are things I know a little more about than mining coal.
When you told Tomáš upfront about your intentions for the film, did you worry about the possible loss of authentic situations?
I did worry, but it was a risk I had to take. I was unhappy after a number of situations where concrete scenes had caused Tomáš and his friends to quarrel. I said to myself that I needed to find a different method and set out clearer rules for filming. The advantage was that Tomáš doesn't ham it up in front of the camera, and he knows how to be very convincing in his natural speech – which isn't a given. I probably couldn't do it. But thanks to this, it was possible for us to base our relationship on honesty.
You speak about your friendly off camera relationship with Tomáš. Did you maintain a certain detachment as a director, or did you go over different strategies, not necessarily connected to the film, for example how to get a job, how to approach an interview, how to behave?
It's hard to say. I tried to stay out of it, but I think we were in the same boat because I'd never been to a job interview either. I couldn't advise Tomáš because I didn't know what to do myself. We were learning these things together. However, I remember one funny moment when Tomáš was programming his own website. In the footer he wrote something along the lines of, "If something's broken, then tough shit." On that occasion I gently hinted that this kind of self-representation might not be a good idea because it could look like he doesn't want to learn new things or work on self-reflection.
Many social and society-wide themes also permeate the film. Through his inexperience with the job market, Tomáš Hisem demonstrates the inner purity that springs from his sincerity, but at the same time it holds up a mirror to our society – unlike him, we today are accustomed to a certain self-representation, image creation, and fabrication of a better "I". Is this an age of authenticity, or are we living in an era of self-delusion?
This was one of my motivations for making the film in the first place. During my studies abroad in the Erasmus programme, I lived in Edinburgh with people from the corporate sphere, and I gave in to scepticism. Today's world of technology and services is made up of corporations and business culture, standing to a great extent on a tradition of self-representation that doesn't have to be true. When I read about the retraining programme, I was immediately interested to know how a person as genuine as Tomáš, who is unfamiliar with today's corporate environment, would struggle with this setting. When you confront a certain purity, some falsehood is always revealed – in this case it was the falsehood of the labour market. We've grown desensitised to it, and we're no longer even aware of it. This is exactly what I wanted to show through Tomáš. But on the other hand, I also tore down many of my own preconceptions, especially the fact that we can't generalise this environment. Thanks to Tomáš and the filming, I discovered a few companies that aren't cold and fake. On the contrary, they are warm, democratic, and friendly.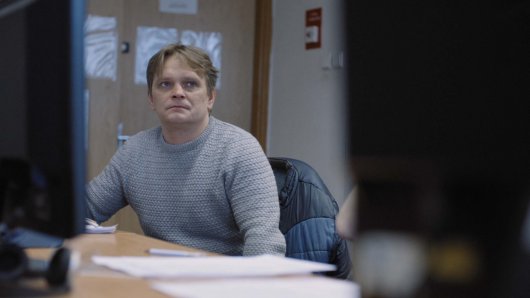 Tomáš Hisem in the film A New Shift. Photo by Artcam.

One of the really authentic scenes in the film captures the ex-miners in the pub. They're watching a TV report about the retraining programme, which focuses on Tomáš Hisem. Although Hisem comes across as happy in the report, the reality is a different story because at that time he still found himself in the complicated situation of searching for a job. The miners all then grumble that the media just pick out the nice things. How did you work with this line between venting emotions and your author's commentary as it relates to the labour market or the media?
For me, documentary direction is a process in which I have to impress themes that are essential to the film into individual scenes. In this scene I felt the dissonance between the TV report and reality. I met with the ex-miners in the pub. They had already seen the report, but I asked them if they had anything to say about it. Of course, I didn't influence their opinions, but I influenced the resulting scene with editing. As a documentarian I'm of the opinion that it doesn't really matter what you film on location and what's true or not in that location. As the creator, I know the truth, but I develop it during editing, which is the primary link to reality. We had 14 hours of footage from the pub, and in the resulting film we used about 15 minutes of it. In editing you can put words in the mouths of your characters which were said in completely different contexts. It can hardly be avoided. But it's in editing that my authorship finds expression – I work with what happened, but at the same time I think about how to show it. With this kind of filming, editing is a director's most powerful weapon.
A New Shift is a time-lapse observation with no classic talking heads, members of the crew, or you, the director. Were you confident of this format from the very beginning?
In the beginning we weren't. We also filmed several hours of interviews with Tomáš, which we didn't end up using. The directorial methods developed alongside the aesthetic aspects because the observation itself sometimes yielded a few silly moments. Although the observational approach worked out, it was sometimes arduous for Tomáš. But because he's a good non-actor, we decided on the method of unacknowledged reenactment, in which the characters reenact events that occurred months before. I would say that the film is one third pure observation, one third my directorial initiative, and one third unacknowledged reenactment.

A New Shift. Photo by Artcam.

In the film we can also hear some unobtrusive minimalist music, which was created by your wife Eliška Cílková. How did you think about the music together?
We're used to working together. For example, I produced her film Pripyat Piano. The music for A New Shift developed gradually, and at first, I wasn't even sure that I wanted any music. Eliška and I discussed some different possibilities over breakfast. I wanted something that wouldn't be overly emotional, but rather neutral, with a tangible weight and uncertainty – Ostrava. Eliška then had the idea to use an organ. She imagined the pipe ranks in a register. But it was a long process – we searched for the right organ for over two months. We also considered the purpose of the music. In the end we went with a "minimal" organ and chose more abstract registers. I think you can't even tell it's an organ. It's beautiful that you can't tell whether these are digital or analogue sounds – it's not even clear what exactly it is. It sounds like something between a machine and a computer, which can relate to Ostrava, the city of big machines…
Did you take your inspiration from concrete documentaries or documentarians?
I was filming during my second year at FAMU, four years ago. My biggest guide was Honza Gogola, a teacher and script editor who gave me valuable advice. I consulted with him on the composition of specific scenes, and we discussed how to work concrete themes into the film. Honza is something like the godfather of A New Shift. I was also inspired by Vítek Klusák, whose workshop I attended in my first year. He pushed us to strive for cinematic quality and expression using the language of film.
In retrospect, how would you evaluate the retraining programme for the miners?
Tomáš Domrovský, a labour market analyst, came up with the programme. It was an experiment, in part because the current government would never offer it, let alone pay for it. The programme was set up fairly – whoever passed the introductory tests would have his retraining paid for. I personally see retraining as a necessity. There's no way around it anymore, and it's more about how to carry it out. The times of lifelong careers are over. We're all going to have to learn and change our professions, but it will affect manual labourers most of all.

Translated by Brian D. Vondrak.