The Rest
There are more industry events during the festival. Let's check out our overview
For many years now, Jihlava is a place where one session of the Ex Oriente Film workshop (organized by the Institute of Documentary Films) takes place. This time, more than 20 renowned tutors, guests and observers will work with 12 participating filmmakers from Eastern and Central Europe on their projects. Apart from the closed workshops and individual consultations, focused on the story development, production and distributional aspects of the emerging documentaries, the second Ex Oriente Film workshop traditionally provides us with a rich programme,that will be open to both industry professionals and a wider public audience. The guest stars of this year's Ex Oriente Film in Jihlava will be the acclaimed French director and producer Nicolas Philibert and an awarded Polish director and cinematographer Wojciech Staroń. The program of the event is available here or in the industry section of the daily program at www.dokument-festival.com
Within the realm of the initiative Visegrad Accelerator, you can find much more than just the panel of TV commissioners (see our special article), you can also visit two other panels on the development of specialized art channels in Visegard countries and a panel dedicated to film awards, which will be hosted by Marek Hovorka. "It seems strange to talk about something that is linked closely to each individual region on an international platform, but we would like to compare the status and impact of these awards on the distribution and publicity of the films. For example, my colleague from Bratislava started to work as the head of industry at CPH:DOX recently and she was immediately invited to take part in the Danish Film Academy. That is a completely different approach to what we have here. So, we would like to compare and find out how film awards can help creative cinema," said Hovorka. More information about the program is available at the industry section of the daily program at www.dokument-festival.com
Apart from the Industry program, there are other sections that should be interesting for film professionals. First of all, you can watch rough cuts of bright new Czech documentaries like the Tribe series, which follow the recently published book on the current state of Czech subculture. The list of films in the Works in Progress section and the dates of the screenings can be found here.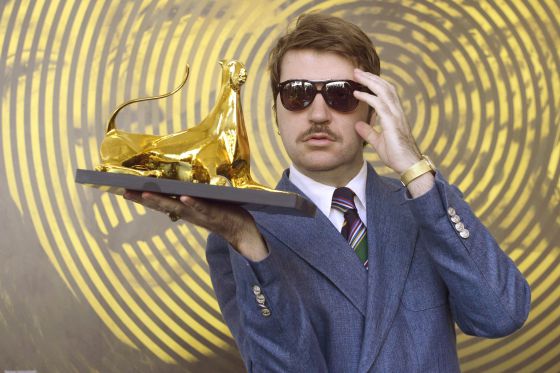 Albert Serra, who is giving a masterclass at Jihlava, received the Golden leopard at the Locarno Film Festival in 2013
If you want to meet the most important guests of the festival like Nicolas Philibert, Albert Serra, Deborah Stratman, Godfrey Reggio, Želmir Žilnik or Kidlat Tahimik, you can visit their public Masterclasses, where they will comment on their work and perspective on cinema. The list of these presentations and their dates can be found here.
And of course, there is also an Accompanying program. If you like music, you should visit the music club Soul located in the Dělnický dům (Workers House) close to the city center. The program consists of performances by Kalle (indie rock), Jiří Stivín (jazz) with Václav Havelka (rock) or Debbie Love (hip-hop) and Mydy Rabycad (electro-swing). Another stage is located in Theatre tent, in front of the train station Jihlava – město. There, you can find concerts of Monika Načeva (alternative legend), Giňovci (gypsy music) and Pio Squad (local hip-hop pioneers). If you don't like crowded spaces, you can enjoy the performance of Martin E. Kyšperský: Exchange of Dreams, which is a set of 10 minutes shows just for one listener. Find out more about the exhibitions, authors' readings, theatre plays, radio-documentary presentations here.