The new tendencies of Taiwanese documentary
In collaboration with Taiwan Docs, Visions du Réel made an outstanding selection of the most recent documentary productions, considering the variety of themes, styles, and richness of the Taiwanese documentary scene. From animation to experimental practices and intimate portrayals of different members of society, these seven films have offered an improved view of very lively East Asian cinematography.
Only those abandoned by history will choose geography
This Shore: A Family History wanders through Taiwanese and United States landscapes, searching for lost and forgotten narratives of the author's family expatriation. Tzu-an Wu differentiates the layers of narrative and historical continuity carefully and thoughtfully shoots with the combination of 16mm and digital. The decision to film with two stylistically different cameras also serves as to conceptualise the correlation between individual and collective memory.
This experimental documentary opens up with the fictional character, dressed up in traditional indigenous Taiwanese clothes, wandering through a mesmerising mountainous landscape. The powerful allegoric representation of the folk tradition, which introduces us to the author's unique family history, also represents the director's attempt at a skilful stylistic mosaic and the successful experimentation with genres.

I´m here. Photo Visions du Réel

The character speaks directly to the camera, simultaneously opening the old wooden box through which Tzu-an Wu narrates and, in a way, guiding us through his family's history, which is a history of Taiwan during the Cold War and mass migrations to the United States. Tzu-an Wu opens up a dialogue with the topic of East Asian migration history to the United States as well as its connection with individuals' destinies across the globe. As a critical moment, mentioned detail of the family's history opens a variety of crucial historical subjects, such as Chinese-American relations and Taiwan's lengthy ambiguous position in the global geopolitical sphere. The metaphor of tracing its roots far away from home and long after the voyage, the author managed to find its film language to decipher its family backgroundy.
Unlike Tzu-an Wu's thinking about the Cold War period, the documentary I'm here Yao-tung Wu represents a different era, from a more straightforward documentary point of view. The film tells a relatively unknown story about the local cultural scene in Taiwan. More precisely, about the small, regional theatre company that emerged at the very end of Martial Law. In Taiwan, Martial Law lasted until 1987. It is remembered chiefly as a violent, repressive, and nationalistic period, during which Taiwanese authorities imprisoned many citizens, and the cultural and artistic scene was under strict governmental control. Two main characters participated in the anti-establishment movement, which symbolically announced a new, democratic era in Taiwanese history. As they walk on the shore and look towards the open sea, these ex-protagonists of the ground-breaking movement contemplate their role in shaping Taiwan's contemporary cultural and political landscape.
Animation and installation
The compelling and intriguing animated documentary Master Sheng Yen by Chao-Wei Chang tells a story about Master Sheng Yen, whose social and spiritual engagement over 40 years has left a significant mark in China, Taiwan, Japan, and even the United States. Interviewing several scholars, his students, followers, and friends from around the world, Chang carefully and thoughtfully portrayed this influential individual. While presenting the Master's story through voice-over, Chang visualises his childhood, travels, and meetings through delicate animation filled with pastel tones and overall serenity. It could be argued that calmness, which was seen in editing, interviews, and animation, is a stylistic way to emphasise the Master's life path of meditation and spiritual guidance. Also, this animated documentary consists of several chapters, each representing ten years in Master's life. Combining animation, classic interview, archive footage, and filming the cities where Master lived, Chao-Wei Chang created a fulfilling, creative, and illuminating cinematic experience that sheds new light on an important public figure.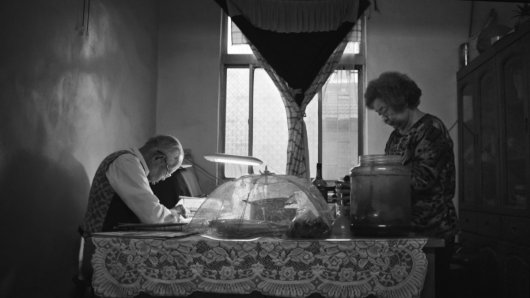 Mori. Photo Visions du Réel

Another form of experimental documentary – Mori by Yu-Hsin Su, contemplates nature through different rituals and folk traditions over Japan. «Mori» in Japanese, with the same pronunciation, has very different meanings: it can represent either «forest», «to protect», or «spirit», which also defined three chapters of the film. In filming different landscapes and their correlation with a variety of cultural aspects, Su questions how they have been historically constructed and socio-culturally controlled. It is essential to mention that the Japanese landscape has been present in Taiwanese imagery for quite some time, more precisely since the Japanese occupation of the island at the end of the 19th century. Understanding the historical dimensions in the landscape itself is a crucial aspect of comprehending Yu-Hsin Su's work. Seeing the landscape as a process and a constantly changing entity and having in mind its historical dimension opens a variety of interpretative possibilities when contemplating its historical and political influence.
The art of portraying
Having set the camera in a classical observational-cinema style, director Tse-yu Lin has made a charming, honest, and direct short documentary about the common folk in Taiwan. The Old Men's Party focuses primarily on a few older men in an undefined Taiwanese city whose daily life is consists of chatting with friends and neighbours while slowly drinking and eating at a local shop. This distinct life of retirement is represented as a regularity on the streets of Taiwan, as it indeed shapes the urban landscape in its densely populated cities. The protagonist of Lin's film is the already legendary Cao, whose drinking table is set up on the arcade in front of his house for the past 30 years. As the city around him changes, new people come, and the older ones slowly go, Cao remains, watching the glory days of his neighbourhood fade away. Faced with an ever-changing social climate, Cao and his comrades aim to be seen as still a part of the ever-changing society.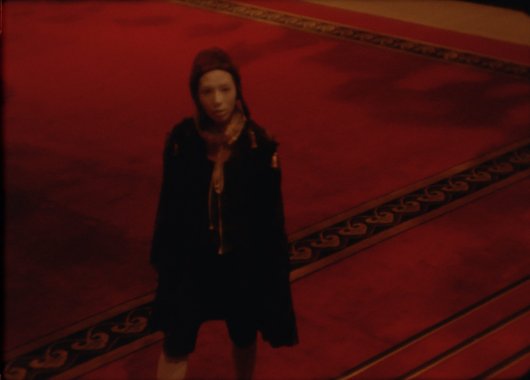 This Shore: A Family Story. Photo Visions du Réel

Another far more ferocious and sociopolitically complex portrait – The Bad Man by Yong-Chao Lee, tells a life story of a violent young man from Myanmar, whose casual talk about killing sheds new light on a non-voluntary, military lifestyle, obligatory to all young men in the country. Many have to deal with difficulties and unimaginable hardships after serving their time. In contrast, violent behaviour mechanisms and aggressive machismo have increased over the years, especially with the constant political tensions in the region. Lee's work is a profoundly intimate one with no room for dishonesty. With a deep sense of social justice and human-to-human understanding, this film has made the topic of toxic machismo, military trauma, and constantly occurring violence even more visible for international audiences.
---
This article is a result of the project Media and documentary 2.0, supported by EEA and Norway Grants 2014–2021.