media and documentary 2.0, Review
The Earth Is Blue as an Orange
The documentary The Earth Is Blue as an Orange made by Ukrainian director Iryna Tsilyk received prizes at Sundance film festival and was screened in IDFF Ji.hlava 2021. It shows a mother with 4 children dealing with trauma caused by the war conflict in Donbas by shooting a movie.
February 24th, 2022, became known as a day the Russian Federation invaded its neighboring sovereign country. The reasoning for this invasion was supposed "denazification" and "demilitarization" of Ukraine. Another goal of the Russian army was "freeing" self-proclaimed republics in the Donbas region of east Ukraine, where a war broke out in spring 2014. The war was an escalation of demonstrations that followed the annexation of Crimea by the Russian Federation. This still ongoing war between Pro-Russian separatists and Ukraine Armed Forces changed the everyday life of Donbas citizens.
Iryna Tsilyk in her debut feature-length documentary The Earth is Blue as an Orange (2020) presents a single mother and her four children living in this war-torn region. This documentary gained her the Directing Award: World Cinema Documentary at the Sundance film festival. She showed their everyday lives as well as their way of coping with them. This film is not about the war, it's about the people living through it. And seeing what's happening in Ukraine her film seems a little bit more up to date than at its premier. Because now, not only people in Donbas face the reality of war, but all Ukrainians do.
Eight years, that's how long people living in the Donbas region have been figuring out how to not only survive in this armed conflict but also live as normal lives as possible. More than anything they're trying to find a way to cope with the fact that their lives were turned upside down. Iryna Tsilyk's husband went to fight in this war. When he came back, she couldn't recognize him. He was a changed man. She needed to understand him, to find out what caused this change. That's why she decided to go to Donbas. There Tsilyk organized film workshops for children. At one of these workshops, she meets a family of five. A family that she decides to make a documentary about. In the film, she tracks the family's life, their dreams, and their struggles. More importantly, she presents us with their coping mechanism.
Anna, a single mother of four, must find a way to keep her children not only happy but also safe. Mira, Anna's oldest daughter, wants to become a cinematographer. She and her younger sister decide to make a film about their life during the war. Mira scripts and shoots scenes using their family as actors. Mira's grandmother tells stories about what it is like living through war. She also uses army vehicles and soldiers for her scenes. Tsilyk is documenting her progress – the making of the script, shooting scenes and screening. It's not a film about film, it's something more. In her document, Tsilyk combines the making of Mira's film with the life of Mira and her family.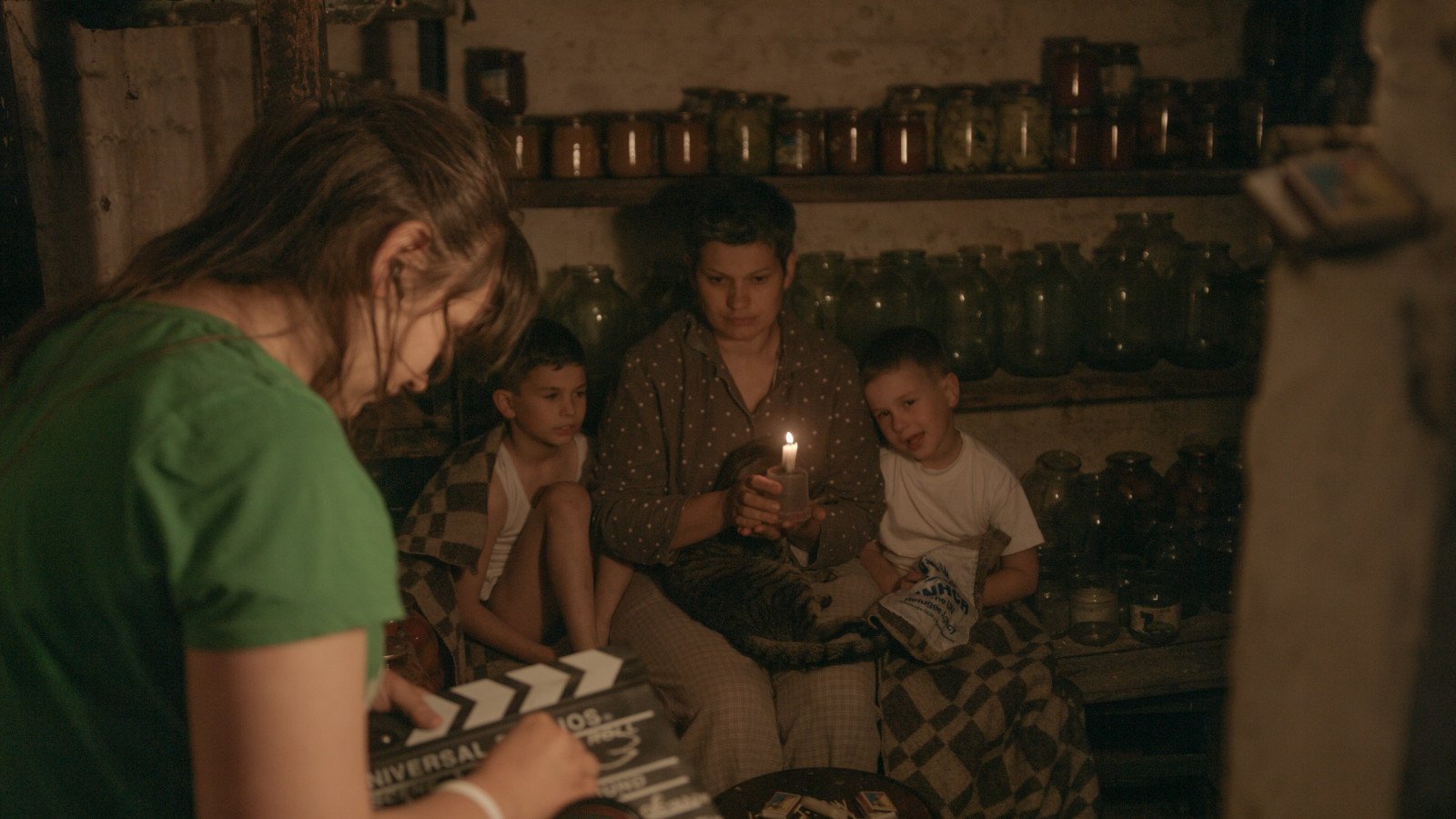 We see the family's everyday life, from eating breakfast in the morning to celebrating Christmas, and how shelling is part of this life. The biggest attention is put upon Mira and not only on her filmmaking but also on her path to becoming an adult. We are shown her love for photography, her first love and break-up, her dream of becoming a cinematographer on its way to come true when she is accepted to university. We see her happy and in tears. The documentary conveys many contrasts. In one moment, we are laughing with the family and in the next we are made aware of the harsh reality that is their life. The film brings together beauty and the beast that is reality. Mira, in her gorgeous graduation dress, is posing for a photo next to buildings damaged by the conflict and in the background, the army vehicles are passing by.
Coming to an end, the documentary connects Mira's film and Tsilyk's representation of it into one. Family members are asked, "What is a war for them?". We see their emotive confessions. And when one of the boys says that they were told the war is coming to an end we are hit by sadness knowing that two years later nothing changed. The war is still going on. What more, the situation is worse than ever before. At the very end, Tsilyk decided not to show us Mira's film but the audience's reaction to it. And what a great decision it was. The emotions seen on the audience's faces, the audience made of the family's friends and neighbors, show more than the film alone could.
Translated by Eliška Novosadová
---
This article is a result of the project Media and documentary 2.0, supported by EEA and Norway Grants 2014–2021.