Emerging Czech female documentarians
Is there a new tide of emerging female documentarians in Czech cinema? What's fascinating about the work of Czech female filmmakers like Johana Ožvold, Greta Stocklassa or Viera Čákany?
Czech documentaries have been recognized increasingly at festivals and in cinemas for their boldness and willingness to take on complex issues with imaginative approaches, whether exploring the impact of electronic sound on society or the disastrous effects of Swedish iron mining.
A huge part of the credit for this new tide of nonfiction work is due to emerging female documentarians, with leading lights recently honored at the Ji.hlava IDFF, including Johana Ožvold, Greta Stocklassa, Adéla Komrzý, Zuzana Piussi and Barbora Berezňáková among others.
What's fascinating about the work of these filmmakers is the scope of diversity in their approaches and in subject matter – all while making deeply personal statements. Meanwhile, with the Czech Joy section of Ji.hlava programming an unprecedented range of work – some 21 films in a section newly open to documentaries made by Czech and international teams – the competition for prizes and glory was more challenging than ever. Ji.hlava director Marek Hovorka called the collection of thoughtfully curated films "perhaps the most varied offer of Czech docs, shown in their world or Czech premiere."
So audiences can only be encouraged by a film such as Ožvold's The Sound is Innocent, which adopts an ironic, off-beat style from the first few shots as we watch pieces of electronic equipment once considered to be wonders carried along a conveyer belt headed for the literal dustbin of history. As they each fall off, crashing down upon a growing pile, we find ourselves drawn into a complex chronicle of technology that few civilians understand deeply.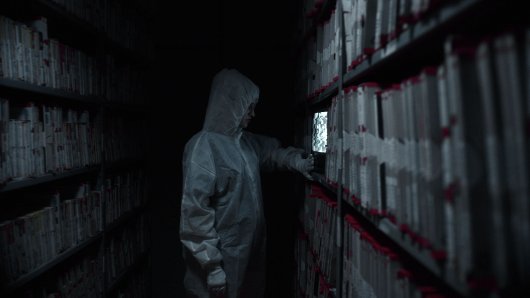 The Sound is Innocent

We hear from historians, scientists, artists and philosophers, each putting into context the greater questions of humankind's relationship to sound and our need to endlessly explore its limitations and range with more and more advanced machinery. But to what ends? And has this millennia-old quest, which dates back to the first rocks banged together by a Neanderthal fireside if not before, reached a kind of end point within our lifetimes?
These questions and many more subtle and vexing ones are addressed by the director, who casts herself as a wandering inquisitor with voice-over commenting on what we're seeing with a childlike simplicity that belies profound, Zen-like insights.
Like The Sound is Innocent, Stocklassa's doc, Kiruna: A Brand New World, takes on a complex and fraught subject, exploring questions surrounding the apparent willingness of many to give up their homes to clear the path for an expanding iron mine. The Czech-Swedish writer-director, exploring what she calls "the dystopian story of Kiruna," which she says is "about lost people looking for a home in an uprooted city," establishes a creeping sense of dread and perhaps the unreal in her story set in the Arctic Circle.
Built upon remarkable location footage and material filmed directly in the mines, Stocklassa plumbs the dilemmas of three protagonists whose lives illustrate disturbing questions of "resettlement, tradition and respect for a particular location," as the director puts it.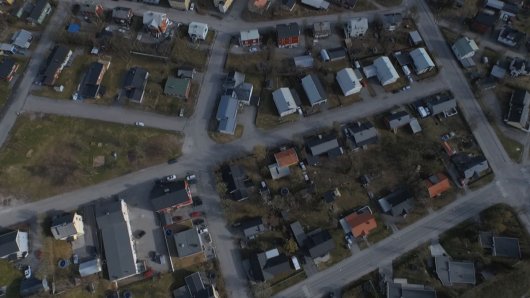 Kiruna: A Brand New World

But more than this, Stocklassa's Czech premiere doc weaves an emotional tapestry made up of reportage and thoughtful essay in a way that shows great promise for future filmmaking.
Another docu with a surprising angle on technology and its role in art, Adela Komrzý's Viva Video, Video Viva, covers ground in the underground media world, looking at analogue video artists who are drawn to a format that offers the "distinctive aesthetic quality of its pixelated image and raster errors." The film adds political context, helping audiences understand that video work for Czech artists in the late 1980s represented for many "a path towards freedom." With personal insights from the director's grandfather, Radek Pilař, a pioneer in the field, Komrzý
Follows the reconstructing the 1989 exhibition Video Day and in the process, discovers poignant differences between the lives and work of artists in then-Czechoslovakia and counterparts abroad.
Komrzý, a student of art history at Charles University and documentary film at FAMU, is no novice in the docu world, having previously won attention at Ji.hlava with Every Palsy Has Its Silver Lining (2014), Czech Journal: Teaching War and Fiat voluntas tua (2016).
Exploring art, emotions and the environment are hardly the limits of this new class of documentarian, of course.
Piussi's investigative docu on the murders of Slovak journalist Jan Kuciak and his fiancée Martina Kušnírová, conveys important insights into the advent of unprecedented Mafia and oligarch influence in traditional state structures. Built on meticulously researched interviews with lawyers, bloggers, journalists, security experts and former secret service agents, Piussi – known for her bold work on politics and corruption – exposed the web of characters influencing government in Slovakia.
"The murder of a journalist raised more questions than just who the killer was," Piussi said of her film The State Capture. "The tragedy illuminated the real picture of social institutions and created a short window when it was possible to capture it with a camera."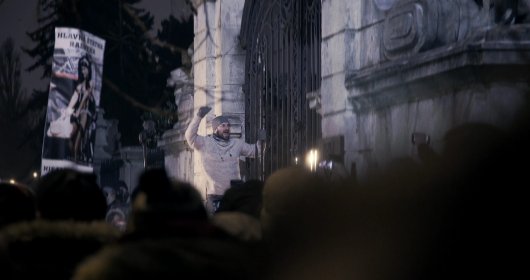 The State Capture

Barbora Berezňáková's Never Happened, meanwhile, investigates the murder of a businessman in 1996 that cast shadows on the administration of Prime Minister Vladimir Mečiar and does not shy away from a journalistic approach. Many in the art film world, sadly, look down on docus that "merely" set out to report important facts and enlighten audiences with context – but this film has those focused on aesthetics covered too with its embrace of multi-format storytelling and evocation of the age of Cowboy Capitalism.
The winner of Ji.hlava's best debut, Belgian docu Aphasia, seems to indicate a Europe-wide rise in female nonfiction filmmaking talent, with its focus "on the collective silence surrounding brutal historical crimes and the fragmentation of history," in the words of the jury.
Ji.hlava special mention winner Apparatgeist by Marie-Magdalena Kochová, meanwhile, inspired jurors in the short docu genre, praised as having its "well-styled execution," which intensifies stories from smartphones "whose individuality and apparent incoherence perfectly illustrates the issue of disseminating information."
If these films are an indication of the next wave of docu work to arise from Central Europe, audiences have much to look forward to – and those with a desire to categorize nonfiction film into clearly defined boxes will find themselves increasingly tied in knots.