As if we were making an advertisement for life in Transnistria
Says Lukáš Kokeš, co-director of Fortress, the winner of the best Czech documentary at the 16th Jihlava IDFF
The film, which Kokeš shot in collaboration with director Klára Tasovská as an extracurricular exercise while studying at FAMU, comes to theatres in December.
What exactly is the fortress of your film?
It is Transnistria – the Pridnestrovian Moldavian Republic. The original motivation for making the film was my fascination with the fact that, just outside the European Union, there exists a country that most people have no idea even exists and that is only recognized and supported, though unofficially, by one country in the world – Russia. Alongside the other unrecognised republics of South Ossetia, Abkhazia, and Nagorno-Karabakh. Klára Tasovská, the film's co-director, discovered Transnistria when she visited the country by chance three years ago. The film is framed by preparations for the country's presidential elections after the same president had been in office for 20 consecutive years – the only such example in Europe. The situation had become so untenable that even reports from Moscow promised change.
How did this non-existent country come into being?
Its history begins with the disintegration of the Soviet Union. The large Russian-speaking minority living on the border between Moldova and Ukraine began to call for independence. The local ethnic Russians, who today form about one third of the 500,000 people living in Transnistria, were and are supported by the Russian army. The local armouries were important already during the Soviet era, and Russia continues to have an important influence in the region. In the early nineties, the local residents held a referendum, declared independence, came up with borders (mostly formed by the Dniester River), and put border guards in place. Over time, they began to print their own currency, introduced a parliament, police and army, and built a telephone network. They also printed postage stamps. The international community did not recognize this republic, and Moldova, to which this region officially belongs, tried to do away with Transnistria by force, but a large number of Russian soldiers intervened and halted these attempts.
What is the purpose of this lost, officially non-existent country?
I got the impression that it was like a large duty-free zone through which a large volume of goods can pass on the black market. There are speculations that weapons are involved as well. But just the trade in foodstuffs, alcohol and cigarettes can lead to immense losses in customs fees on the order of several billion. Businessmen and politicians from all neighbouring countries have an interest in such a "black hole". There are clear ties between politics and business. There are other speculations that Russia consciously maintains this state of affairs so that Moldova won't be able to join the EU, through which the Russians will be able to keep the EU farther from its borders.
Did you need any permit in order to film in such an unusual country?
If a filmmaker wants to shoot in Transnistria, he needs a press permit, which he needs to apply for. We tried to do so, and sent an application to the Ministry of Information, but they rejected it. And so we could not film in official locations or interview official representatives, politicians, officials, soldiers and so on. From the beginning, we had to take a different approach, and instead of official structures we focused on ordinary people. Only one politician appears in the film, someone who thought that he could increase his visibility by appearing in the movie. Today, I don't think anyone would talk to us.
Filming illegally
What would have happened if local officials had discovered that you were filming? Would they have expelled you? Did you know what risks you were taking?
We could really only speculate as to the real threat, which merely caused us to imagine even worse scenarios. We worked on the assumption that this was an officially non-existent country in which the only embassies are those of South Ossetia and Abkhazia. The Czech Republic does have an embassy in the Moldovan capital Chisinau, but diplomats are forbidden from entering the Pridnestrovian Moldavian Republic, to exaggerate a bit. Transnistria and Moldova are in a formal state of war with a temporary ceasefire. If we had ended up in prison, it would have been pretty complicated to negotiate via official channels. Such countries are always unpredictable.
How did the illegal nature of your filming influence the film's overall form?
We shot everything with a minimal crew. I was cameraman and Klára did sound. Most footage was shot indoors. When, towards the end of our next-to-last stay in Transnistria, we filmed the official celebrations of the anniversary of the country's founding, I took out a tripod on a public square and we were immediately arrested by the secret police. We knew from the beginning that such situations might occur, and so we tried to avoid them. We didn't want to endanger the film itself.
Under such circumstance was it even possible to shoot a film that reflects your personal experience with this place?
In order to fully express the quality of everyday life, we decided from the beginning to approach filming as if we were making an advertisement for life in Transnistria. We consciously tried to exaggerate things, so that they would show for themselves just how closed and manipulated a bubble the local people live in. We knew from the beginning that we didn't want to engage in investigative reporting. Our aim was not to investigate political influences and to untangle the tentacles of the local power structure. The film is based on impressions of a place between time and space, an out-of-focus region behind fogged-up glass.
Your film is a visual experience because it is based on distinctive images. How did you choose scenery and situations that would provide such a powerful atmosphere? And weren't you afraid that they would incapable of telling more, that the film would be just a series of beautiful images?
At the outset, I remembered Jorgen Leth's 66 Scenes from America, which acted as a reference point telling me that such an approach can work. Leth, too, created a commentary on America in the early 1980s merely through his choice of images. With this in mind, we looked for expressive images in Transnistria as well. At the same time, we wanted to do more than just shoot a picture-book of atmospheric images, which is why the film gives a lot of space for off-screen testimony. Our aim was to lose neither the informational eloquence of spoken testimony nor the atmospheric impact of the images. The editing process was slow and difficult, and we tried to find the ideal balance between the two.
How did the people you filmed respond to the camera? Were they afraid?
That is interesting. Compared to filming at home, their level of mistrust was much smaller. They were less reticent, and tried less to be in control. The mistrust in film that we know from home hasn't arrived there yet. This was another confirmation of the feeling that we had travelled back in time by 20 years. We became most aware of this strange asynchronicity of time when travelling from the Czech Republic to Transnistria and back again.
How might your film endanger the people who appear in it?
We were reassured by the fact that the regime has relaxed a bit since the presidential elections. As a result, we can even use some of the more substantial scenes such as the interview with a political activist, who would otherwise have run the risk of being accused of treason. Fortunately, the situation has changed since the elections, and today she can publish her anti-government articles on her blog. Immediately after our interview, however, the secret police drove around her home, monitoring what was going on.
Films and a filmmaker profile can be found at DAFilms.cz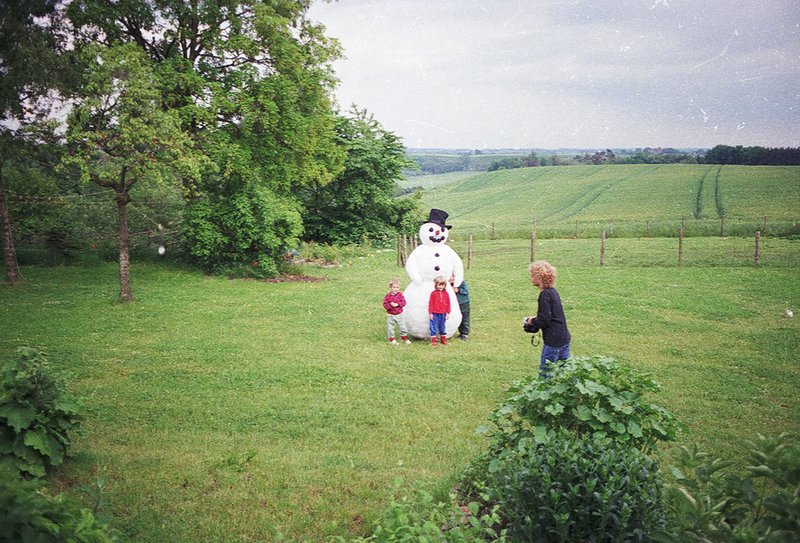 The limits of documentary and fiction
Do you share the sceptical view of some intellectuals, as recently expressed by Umberto Eco when he wrote that people today don't experience anything fundamental anymore because they record their moments on their mobile phones and cameras?
I am not sceptical. It's just a new situation that needs to be taken advantage of creatively. When I pull out a camera or mobile telephone in order to record something, I am not robbed of my personal experience; I just experience that situation differently. Some people might see a camera display screen as a barrier, but for me it is more of a filter that allows me to experience that moment differently, to record it and return to it. To experience it multiple times, each time new and differently. What is more, this recording about which we are speaking creates an immensely interesting, infinite global audiovisual archive of all possible moments in human life. And for me as a filmmaker, these moments may potentially be incredibly interesting.
How important is it for you to be informed about the latest events in the world of cinema?
I pay quite a lot of attention to it, and consistently so. I try to follow both fiction and documentary film. For instance, I regularly take note of what films are accepted into competition at the festivals in Cannes, Venice, Locarno, and Rotterdam. I am especially fond of these last two festivals. I later go online to look up the films that catch my interest, or I order them through various services. I enjoy and am interested in watching contemporary movies; it also gives me something to relate to and to critically develop my thoughts about my own style. I am convinced that everything has already been filmed somehow; there are just different variations. Which is why I believe that it is impossible to have an original style or method. If a person is convinced as to the originality of his style, then it is out of a lack of awareness of what has come before. For me and for Klára, it is important to know that we are not closing ourselves off within a local way of looking at film, as well as an awareness that we are trying to use a modern vocabulary.
The programming at the Rotterdam and Locarno festivals captures the tension between documentary and fiction and the way the two influence each other. Did you have the limits of the documentary approach on your mind while shooting in Transnistria?
I am constantly running up against the limits of documentary film, not only in Transnistria. As part of "Czech Journal", a television project by Vít Klusák and Filip Remunda, I am preparing a documentary film based on the recent methanol affair. I have heard some highly interesting stories from inside the world of spiked alcohol that cannot be filmed using purely documentary approaches. The limits of the documentary approach are with me always, and I am constantly saying, "That would make a good fiction film". For example, I spent a night with a unit of customs officers who were making sure that bars, 24-hour stores and gas stations were observing the prohibition on the sale of hard alcohol. But I was not allowed to go with them into a suspicious business and record their raid of a warehouse. They didn't take me there. First of all, I would have revealed how they work, plus the store's owner can immediately kick me out because I am not allowed there without his permission. As a result, I will never get such an essentially banal situation into a documentary film! And such a film demands it! In the same way, we said to ourselves several times while in Transnistria that it would be better to shoot a fiction film about it.
So are you planning to make a fiction film?
I have been considering it a lot. I would like to put together a feature-length fiction film based on real situations. I don't think that re-enactments and the use of fiction film methods reduce a film's truthfulness and authenticity. The important thing is to choose the right style of filming. One example is Hungarian director Benedek Fliegauf's Just the Wind. For me, what he shows is more real that what could be captured by a documentary film.
(An abridged version of this interview appeared in Respekt magazine.)