Life pinched in a shell or the projection of our own perspective
A commented overview of Czech reviews of the documentary film Fortress
It is surprisingly easy to get captivated by film images from Transnistria shrouded in fog, although the duo of authors Klára Tasovská and Lukáš Kokeš are less than willing to please the audience. Their film Fortress, named the Best Czech Documentary Film at Jihlava IDFF, has a unique and commanding presence – Fortress is a film that reflects on the developments in contemporary European cinematography, while forming an integral part thereof. Therefore, it is all the more interesting to analyse the comments on this documentary film published in Czech media.
Fortress is a type of a documentary film that is neither investigative nor activist. In a certain way it much more resembles a feature film as it somehow abstracts the real environments, portrayed persons as well as the particular political situation.
This filmmaking approach results in a disappointment on the part of some of the film critics. Although the authors managed to evoke interest in a country hardly anyone had been aware of (including me and perhaps also some other critics, even though they would not admit this in their reviews), it fails to meet their expectations to complete a missing dictionary entry.
No deeper cut
Andrea Ctiborová thinks that the film "is lackingreal filmmaking self-confidence. I believe that the story offers greater potential. Thus, the film only provides prevalent uniform linearity and a panoramic 'glimpse' with no deeper cut."
Fortress made a similar shallow impression also on František Fuka, who says: "The authors are not trying to provide a detailed explanation of the complex political situation in the country, and present only two types of people: Dissidents-amateurs who make pseudointellectual philosophical speeches that 'things are terrible, they have to change, and the last bell is ringing, and we are not like them,' and the followers of the present regime whose scenes are edited so that they seem very retarded." Unfortunately, Fuka's review does not propose any arguments, and uses the very same style for which the filmmakers are criticised.
Detective story upside down
If we admit that documentary cinematography can grasp reality and complete its shape in the spirit of a creative gesture, because then its message is all the more truthful – based on experience, intuition and feelings of the authors, and not only limited to facts that can be recorded, we will be able to see Fortress as a multi-layered and metaphorical work.
The film draws on the combination of shots or images charged with meanings and specific, rather informal and casual utterances, for example during a conversation of a bunch of friends in a sauna, discussing presidential candidates. The central motif of a "non-liberal country on the border between the presence and the past" generates more and more questions, Fortress thus becoming a detective story turned upside down: you know who you are and where you are goingin the beginning,yet nothing is certainat the end.
Its poetics as well as the creative concept remind us of Kafka's Castle, with which it shares the atmosphere of uncertainty, isolation and fear, and we do not know whether it is rational or not. In this relation we can read the name of the film as an analogy to this key novel which can be one of the clues to the "interpretation" of Fortress.
Non-dogmatic openness
It is interesting to watch how the impressive visual aspect of the film and the systematically built atmosphere affects the individual reviews so that, in addition to mentioning the form, they also try to describe or evoke this atmosphere. Similarly to the directors, they themselves try to balance the fact that a substantial part of the text (and the film) has to be dedicated to a description of the unknown Transnistria.
"Kokeš and Tasovská could have approached the topic in a different way. For example, they could have taken an investigative approach and make a political documentary thus uncovering the system as it is and the links of its establishment to Russia or other governments. Or they could also focus on the political matters reflected on the banal level of everyday life," says Jindřiška Bláhová in her review, "They could have done that, but fortunately, they have not. According to Kokeš, they hesitated and oscillated between these two poles. The admitted indecision which could be perceived as non-dogmatic openness has turned into a creative principle. Fortress is closer to a film essay which does not criticise any alleged maladies, does not enforce its beliefs or truths."
Also Mirka Spáčilová might surprise some readers by saying in her review that she appreciates this approach as the "film is free of any explanations, commentaries or judgements. It only observes." And she continues: "The film gives you chills, feelings of uneasiness and despair, as belligerent speeches, crowded terraces, military parades are blaring from local television, hooray! This suddenly takes us several decades back." Her review written at the time of the film's distribution premiere, that is after the Czech presidential election, is affected by this timing in an interesting way. Not only because the election is also one of the main dramatic lines in the film. The film thus functions as a layered work that can be read differently at different times and reveal different lines and emphases with various intensities.
Projection of our own ideological perspective
The principles of absurdity and abstraction from the reality are also noted by Jan Hřídel, who notes that the authors "perceive (reality) in an impressive, atmospheric and existential way. The life pinched in a shell, the loneliness, sorrow and fear gain universal meaning. Sometimes we may feel, that 'real life is elsewhere'. The view of 'the real unreality' of Transnistria is a message about a grey external and internal world and an omnipresent ability of a man to come to terms with absurdity." The film itself is characterised by Hřídel as a "unique cinematographic meditation on the topic of external and internal freedom".
The limits of this "emotional" form are then emphasised by Petr Fischer in his text regarding films awarded at Jihlava IDFF when saying that authors "admit that the illusion which we see on the screen may only be the projection of our own ideological perspective". And he continues with a quote from an interview with Lukáš Kokeš: "It is certainly possible. And it is true that these people do not quite get what we are talking about when explaining their delusion. They live in a rigid, semi-totalitarian system, but on the other hand, they have more time for children and meetings with friends."
No nominations for the Czech Lion Awards
Another substantial feature of Fortress, relating to the fact that it is an internationally comprehensible and clearly readable film, is mentioned by Jindřiška Bláhová, who says that "the film does not resort to the typical 'Czech way' of disparaging the topic with humour, it does not try to cover its back by applying a detached perspective and irony as the topic might propose. Similarly to last year's winner at Jihlava IDFF, Solar Eclipse by Martin Mareček – who was also one of the 'supervisors' of the duo of authors – the filmmakers try to cover more general topics that are not easy to grasp." And this very ability to delve into serious issues that do not turn into a rhetorical show, and not resorting to humour to make light of their gravity is what makes the film so remarkable. The authentic and cinematographically informed filmmaking approach renders the film generally comprehensible and plausible – and this is what endows it with its powerful impact. And this is also why it is surprising that Fortress was neither among the five nominees for the best Czech documentary films selected by the Czech Film Academy, nor – albeit narrowly – was it shortlisted by film critics as one of the three best documentaries; the third Private Universe by Helena Třeštíková was only three points ahead.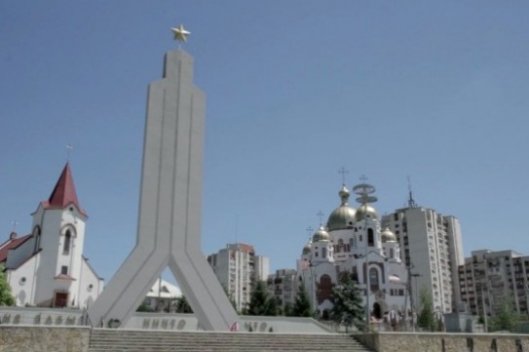 Overlooking the context
It is rather surprising that most of the reviews of Fortress do not mention that the authors are students at FAMU (Film and TV School Academy of Performing Arts). It is hard to say whether this fact relates to the concern that this would disqualify the film in the eyes of the readers – and be labelled "not professional enough". Czech media do not pay any particular attention to student works because film critics do not see Czech film schools as film laboratories that are worth focusing on as an indication of the development and transformations of Czech cinematography.
Except for a comment in the Hospodářské noviny daily that "based on a survey in Hospodářské noviny, Lukáš Kokeš is a film talent that we will see again in the future" the reviews do not tell us anything about the history, previous films or planned projects of any of the two authors. And yet, the fact that the award for the Best Czech Documentary Film at Jihlava IDFF went to a film that significantly surpasses the Czech film production available in cinema distribution, calls for an answer to the questions: who are its authors,what does their work stem from and is an exceptional attempt, a step aside or an indication of a new trend? And will they continue their work as a duo?
However, this is not an exception. A vast majority of Czech film reviews ignore the wider context of the works under review or the history of their author or authors – which is peculiar to Czech film criticism.
A deeper insight is provided in two exceptional and more extensive interviews that cover a wider range of topics and issues. The first one was conducted by Jindřiška Bláhová in November 2012 ("We didn't want to show a 'communist safari'"), the second was held by Tomáš Stejskal in the second half of February of this year ("Lyricized reality is annoying"). On the other hand, it is surprising that the Respekt weekly or the Lidové noviny daily, which tend to focus on readers interested in current art and culture, did not comment on Fortress in detail. These magazines were accompanied in their attitude by Týden and Instinkt, which, however, could be defined more as lifestyle magazines, focusing primarily on mainstream topics.
Missing information
Let me therefore conclude with information that has not been provided in media – except for a fresh profile written by Kamila Boháčková for the Cinepur bimonthly.
The directors of Fortress are also the authors of films that have won the Special Mention of the Jury at Jihlava IDFF. Klára Tasovská was awarded for her medium-length film essay on light and darkness from 2010 entitled Midnight. The director builds the film by adding layers of film diaries shot during her experimental stay in a completely dark space and connects them with questions regarding energy self-sufficiency, blackout risks, and instability of our civilisation dependent on electricity. These are accompanied by footage showing actions of the so-called "darkers", targeting electricity supply networks. The outcome is a visually captivating film presenting a timeless topic and sensitively combining two contradictory filmmaking approaches: the Anglo-Saxon matter-of-fact description of a globally significant topic and intimate diary entries.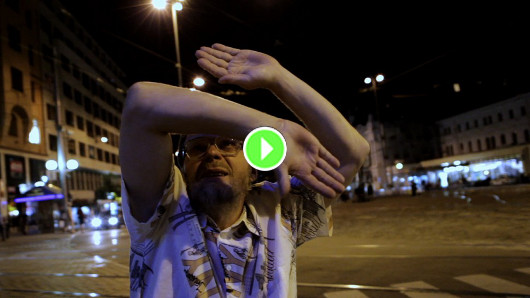 Watch the film Midnight for free at DAFilms.com
Two years earlier, in 2008, Lukáš Kokeš also received the Special Mention of the Czech Joy Jury, for his short film exercise made during his second year at FAMU, entitled Redemption Attempt of a TV Repairman Josef Lávička in Nine Scenes. It presents a black and white portrait of an alcoholic living in the countryside, pushing the Hrabal's archetype of Czech storytellers beyond the bounds of acceptability. We can hear the director's voice coming from behind the camera and giving instructions to his object of interest, thus disrupting the stereotypical perception of documentary film as a "pure observation", a film "without manipulation".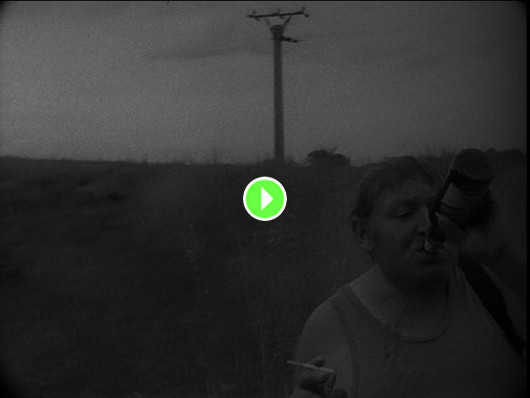 Watch the film Redemption Attempt of a TV Repairman Josef Lávicka in Nine Scenes for free at DAFilms.com
It is also worth mentioning that Lukáš Kokeš played a part in the film Free Smetana!, directed one of the films of the Czech Journal series, is a co-author of the prepared generation film Gottland and an author of other films, including especially a bachelor degree film at FAMU called 59 / 184 / 84, co-scripted by Klára Tasovská. (Watch this and other films by Kokeš for free at www.dafilms.com)
Investigative hazard
One of the "gems" that could be found in the reviews was the ending of the review by Hana Kasalová, that I have included as an imaginary epilogue: "What I do not understand is why the authors of this film documentary took such a risk. Are they attracted to investigative journalism or extreme adventure holidays? I do not think it is necessary to take this risk for a little country like that. … (Jihlava's Jury) perhaps appreciated their investigative courage, but I consider it more of a hazard."
In my opinion, the opposite is true. It must be appreciated that the upcoming generation of documentary filmmakers perceives the globally interconnected world as a whole and as such it is also portrayed in their films. And it is not only the case of Klára Tasovská and Lukáš Kokeš, but also Erika Hníková, Linda Jablonská, Ivo Bystřičan, Tomáš Kudrna, Martin Mareček or Radim Špaček, whose films focus on a variety of countries encompassing Afghanistan, Azerbaijan, Kyrgyzstan, North Korea or Zambia.