Translucent Being: Eugène Deslaw
Eugène Deslaw (born Ievhen Slavchenko) was a well-known figure of the 1920s French avant-garde. Although he worked his way through a number of film-related professions, most of which he came to by chance, he pursued his personal artistic direction independently. He worked as a projectionist in Paris; as a journalist he was an energetic critic of French films. Prior to becoming a film director, he was a correspondent for the Ukrainian magazine Kino. In Prague, he established a short-lived association with actress and founding member of the Czech avant-garde Zet Molas. His actual film career comprises sporadic, inexpensive experiments carried out using homemade equipment.
Deslaw's first film was March of the Machines (1928). Carried out in the spirit of similar works by Moholy-Nagy, Léger, Ivens, and Steiner, it was a serious attempt to celebrate the creative photogenics of modern machines. He used deliberate angles supplemented with fade ins/outs for his shots, untraditional framing and alternating positive and negative images. Some screenings were accompanied by the "rumorarmonio", a special musical instrument reproducing the widest possible range of sounds found in cities and in nature, operated by futurist Luigi Russolo. The same year, Deslaw made Electric Nights, using a favourite theme of avant-garde filmmakers: urban lighting in direct combination with neon light advertising. The shots were sped up or slowed down and linked into coherent images. Both films were well-received in a number of countries, showing that their director was attempting to make the most "film-like" work. We can say the same about his short experimental film Negative (1930), which was simply a laboratory and editing experiment presenting the world inside out and targeted at educated cinephiles.
Deslaw also helped to develop the documentary approach, best seen in Montparnasse (1929) with his untraditional shots of the famous artistic quarter of the same name. His views of traffic on large boulevards, social life in cafés, and local residents, a number of whom later became famous (Fujita, Russolo, Buñuel, Yuki), are acerbic and dreamy. In this creative ferment, he set to work on his documentary film Robots (1932), based on visual gags, built around the topic of replacing humans with machines. The film remained unfinished, as did Paris, a University City (1933), and only a few photographs remain. Deslaw was also an excellent editor and one of the first to show interest in "films about films". From this perspective, his Around the End of the World (1930) is absolutely unique in the way it captures scenes from the making of Abel Gance's End of the World. In addition to its documentary value, it is an exceptional example of period film shooting techniques, a record of acting rehearsals, and includes scenes that censors deleted from Gance's film.
Despite creating work that placed him firmly in avant-garde circles, Deslaw had to put his head down and accept work that served purely as a means of support. He was in charge of dubbing American and Czech films into French, and often did work unworthy of his talent. In the early 1930s, he made a number of commissioned films, such as the compilation documentary The World on Show, an ingenious montage of unused newsreel footage. Similarly, Railway Revue, with the theme of railway history, was made as a trailer for the film commissioned for the gala opening of the Ciné Paris-Midi. For these shorts, Deslaw gladly used found footage in order to metaphorise the throwaways from the cutting table. Subsequently, Victofilm asked him to add sound to a number of slapstick works classified as avant-garde productions. In an era hostile to sound, Deslaw created soundtracks to Inheritace, The Man Who Has Eaten a Bull (1935) and An Elegant Man (1935), where he used the voice of the comedian who performed under the pseudonym Bétove. He also flirted with popular science films, such as his record of Dr Paul Gillet's lectures Revolution in Medicine: Sympathetic Therapy, in the form of a traditional report about a non-invasive medical treatment based on the properties of the sympathetic nervous system.
The next part of Deslaw's life is another example of the sad fate of many other promising filmmakers whose careers were disrupted by the advent of sound films. Things would have been no better even if he had returned to Ukraine. Nevertheless, he tried to work remotely on a collaborative project between Paris and Kiev, when, in 1931, a Kiev studio asked him to write the screenplay for Man and Bread. He also prepared the technical script and notes for the director. Thematically the story was set in the context of famine, which had begun to spread in Ukraine, and thus, given the political situation, it was a risky project. The film's production was entrusted to the Kiev studio's Experimental Group. Filming was later stopped and Deslaw's contact with his Ukrainian colleagues, primarily with his friend Alexandr Dovzhenko, was cut off completely.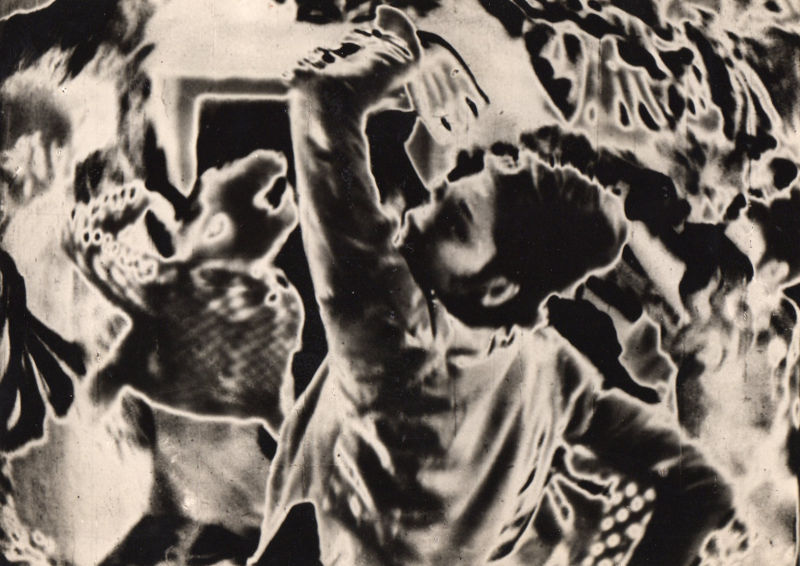 Vision fantastique
In the 1930s, Deslaw worked as an editor and assistant director on feature films by Pierre Caron, Jacques Daroy and Jean Stelli. He co-directed Generals Without Buttons (1937) with Daroy, which is undoubtedly the best version of Louis Pergaud's novel War of the Buttons. Despite receiving praise from his peers, the film did not fulfil Deslaw's expectations or ambitions. He often threw himself into projects that had no potential. In 1939, he was invited to Khust in Transcarpathian Ukraine to make an ethnographic film about the Hutsuls. He never went because of the tragic events that led to the rapid end of this ephemeral republic.
During WWII, like many other filmmakers, he ended up in Nice, where he worked with Jean and Alex Giaume on two animated films: The Wild Hunt (1943) and The Magic Flute (1939). Later, he was unemployed and during this time he tried to write his memoirs of a European journey called European Impressions and compiled a slim volume entitled Films and Stars, published in Mexico in 1948 under the title Film Paris. He tried unsuccessfully to film the medieval chronicle Ekkehard in Switzerland. In 1943 he arrived in Spain, where he worked as a screenwriter and scriptwriter for the films of Antonio de Obregon, Arthur Duarte, and Enrique Gómez, and also collaborated with the magazine Primer piano.
He returned to the Cote d'Azur in the 1950s and continued working in experimental film. He made two extraordinary works, the first of which was Negative Images (1957), reminiscent of the equally extraordinary Negatives (1930), the only copy of which most likely was destroyed by fire. The film was made using "negavision", a method that allows two realities to be captured simultaneously – one on positive film and the second converted from the negative. The result brings surprising new aspects of white shadows and black light. In 1957, Deslaw continued working on his most daring film Fantastic Vision, in which he improved his method, now calling it "solarisation". The visual richness in this ethnographic film about Spain added a special magic to impressionistic effects, sometimes bordering on the abstract.
During the 1960s, Deslaw made a series of ten short travel TV documentaries entitled Small Mediterranean Ports, paying tribute to the Cote d'Azur's rich cultural heritage. They were a far cry from his earlier experimentations. Shortly before his death in September 1966, he began working on his final documentary about the United Nations. He filmed some exceptional material, but it was never edited.
Deslaw the filmmaker believed in the absolute autonomy of film and his professional career path was somewhat non-typical. He most likely made other experimental films that remain as unknown as his famous works Negative, Railway Revue, The World on Show, Man and Bread and Negative Images, and which still remain to be discovered.
---
Lubomir Hosejko, film historian and specialist on the work of Eugène Deslaw
Czech translation by David Čeněk