Terrorism and the Cinema of Revolutionary Violence in West Europe
Despite the close links that cinema has with history, its descriptive nature and its unique ability to capture reality, film is no more predestined to convey a mission than is literature, music, or other creative arts. Nevertheless, like every other symbolic creation, it does play a role in exploring various phenomena, it has the concealed potential to be critical, and it is able to affect deep-rooted beliefs and expectations. Through using various techniques, filmmakers have turned cinema into a wonderful tool for liberation, even though their individual reasons for doing so may be different. In 1970, Jean-Marie Straub said: "The cinema can change things the way anything else can, the way a political pamphlet can, only more so. It's not a question of turning the cinema into a myth – it's just that the cinema is closer to reality.".
The slogan "cinema is a weapon" has sometimes been used by many filmmakers, cinematographers and technicians, and they have helped to support liberation wars, resistance movements, guerrilla warfare, workers' struggles, the battle against apartheid, and various movements promoting equal rights for women and homosexuals. This list includes the likes of Armand Guerra, Joris Ivens, Georges Franju, Paul Strand, Leo Hurwitz, Chris Marker, René Vautier, Cesare Zavattini, Santiago Álvarez, Yann Le Masson, Jean-Luc Godard, Johan Van der Keuken, Robert Kramer, the cinema collectives of the 1960s and 1970s from around the world – from the USA to Korea, from Argentina to Portugal – Fernando Solanas, Jorge Sanjines, Miguel Littin, Peter Whitehead, Tobias Engel, Pierre Sergent, Bruno Muel, Jacques Panijel, Jacques Loiseleux, Ugo Gregoretti, Emile de Antonio, Haskell Wexler, and countless others.
Images and sound have always been used as a tool of resistance against repression. Sometimes the filmmakers (or film critics) paid for their actions with their lives, as can be seen in the tragic fates of, for example, Raymundo Gleyzer in Venezuela and Michèle Firk in Guatemala, both of whom were killed because of their ideas and their ideals. Some avant-garde filmmakers exchanged their camera for a weapon in order to be directly involved in the battle, thus achieving the revolutionary ideal formulated by Friedrich Schiller: "...to occupy oneself with the most perfect of all works of art – the establishment and structure of a true political freedom."(Letters Upon the Aesthetic Education of Man, 1795).
The members of the Red Army Fraction were either filmmakers or, in one way or another, participated in the making of films, as can be seen in Jean-Gabriel Périot's A German Youth (2015), which he made using mostly forgotten material unearthed from archives. Holger Meins, the student about whom Jean-Marie Straub and Danièle Huillet made their film Moses and Aaron (1975), shot several short features prior to joining the RAF. Ulrike Meinhof wrote news reports for German television and, in 1970, wrote the screenplay for Bambule, a television movie about women's rights.
During the same time period, at least one member of the Japanese Red Army was also involved in filmmaking. Masao Adachi was an actor, scriptwriter and producer, who participated in the films directed by Nagisa Oshima, Koji Wakamatsu and others. As a member of the JRA, he made several documentaries and for almost three decades helped the Palestinian resistance by shooting news reports that presented information disputing the official version. Unfortunately, these works have since been lost. In 2010, in a self-portrait filmed for Cinémathèque française, Masao Adachi said: "Instead of replacing the camera with the rifle, why not have one in each hand?"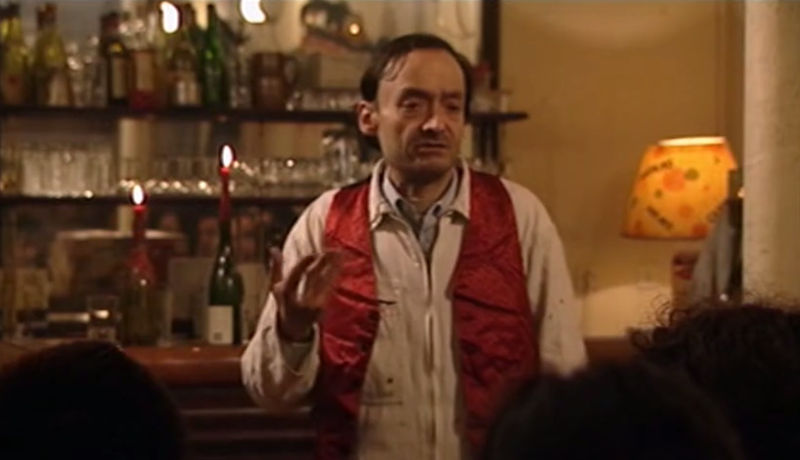 Addio Lugano bella (Giorgio Bellini, 2000)
The co-operation between armed fighters and filmmakers may be seen in numerous collaborative projects. Some of them have been made in response to current events of the time, such as 12 December, which Pier Paolo Pasolini and Giovanni Bonfanti made for the far-left Lotta Continua organisation in 1972. Other films were shot as retrospectives, such as Francesca Solari's Addio Lugano bella (2000), which reflects on the attitude of her contemporaries towards the Swiss revolutionary movement, of which her husband, Giorgio Bellini, was one of the leaders. Other examples include The Prisoner of Pont aux Dions, made by Gaël Lépingle, who, as a child, was significantly affected by the assassinations led by the French anarchist movement Action Directe; and the documentary They Were the Red Brigades: 1968-1979 (2011) made by Mosco Lévi Boucault, which documents the political careers of the leaders of Italy's Red Brigades in a somewhat more traditional manner suitable for television. Whether it is cinéma vérité, a poetic reflection, or a treatise essay, whether it is the filmmaker or the subject of the film, the speaker is generally always a promoter of the struggle.
The transition from art to armed struggle, which was very characteristic of the 1970s, mirrors the situation of the previous generation of filmmakers, who came to the film industry from various resistance movements. Some typical examples include René Vautier, Edouard de Laurot and Gianfranco de Bosio (who made the legendary film Il Terrorista, 1963), who were all involved in the fight against Nazism in France, Poland and Italy and brought their resistance movement ideals to cinema. Both of these generations or filmmakers have certain things in common: collective ideals, party affiliation, labour union membership, or involvement in various organisations. Today's generation is characterised by the fact that individual join resistance movements and the oppressed based on their own personal initiative without the support of any political organisations. These include, for example, Florent Marcie, who works alongside fighters in Afghanistan and Libya. Marcie, a documentarist specialising in time-lapse photography, recently finished a trilogy dedicated to those fighting wars in Chechnya, Libya and Afghanistan. Made in 2005, The Sons of Ichkeria is about people that were declared to be a terrorist nation by the Soviet central government and faced the threat of genocide, as is shown in the film. The second film in the trilogy, Commander Khawani (2014), is a portrait of a young Afghani officer who was serving at the Bagram Army Base when Kabul was occupied in 2001. The third film in the series is Tomorrow Tripoli (2014), which tracks the struggles of a group of Libyan rebels during the revolution up to the time that Gaddafi was overthrown.
What role does cinema play? How can films be made during wartime, during conflicts of either high or low intensity? Which ones to make? How? And for whom? What price must be paid for films to attain value within the context of historical events? Armed struggle provides us with the opportunity to ask ourselves several urgent and specific questions about the aesthetic issues to which films react through actions. In today's day and age, we should watch these films, ask questions about them, and discuss them.