Shooting About Kundera
Documentarian Miloslav Šmídmajer describes the process of making a documentary about Milan Kundera with the working title "Milan Kundera: From the Joke to Insignificance."
The second weekend in September was coming to an end and we were saying our goodbyes with Milan Kundera and his wife Věra, a vibrant woman, who is managing not only their household but also the writer's entire publishing and work agenda. She has been taking great care of her husband. Standing in the doorway by the elevator, she gave me her final advice: "Don't fuck it up." And before the door closed, I heard Milan Kundera saying: "These guys were really nice!"
I was pleased to hear that – the good guy in me won over my internal documentarian "bulldog" and "fighter" who was hoping to capture, even on hidden camera, perhaps the last shot of Milan Kundera. Instead of such sensational footage, I chose to respect their motivation and privacy, which opened the door not only to their apartment.
The path leading to Milan Kundera's door was, indeed, quite windy. When I travelled to Western Germany shortly before the Velvet Revolution, I ran into two people on the train who were reading The Unbearable Lightness of Being. German bookshops only offered books by Jaroslav Hašek, Václav Havel and Milan Kundera in the Czech section. I had read his The Joke and Laughable Loves and I remember my female classmates being fascinated by Kundera's stories and often engaging in long discussions about his books. Gradually I also got to love his writings and tried to get hold of his novels through '68 Publishers.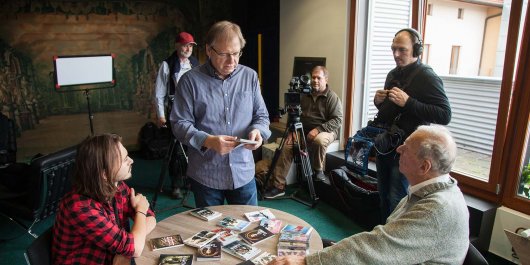 Shooting of the documentary in Brno with Milan Uhde (right) and director Miloslav Šmídmajer (middle). Photo by Jakub Jíra

After the revolution, director Miloš Forman – the protagonist of my film debut Hold That Dream Tight (1990) – connected me with Milan Kundera (Forman had been Kundera's student at FAMU and the two were still meeting in Paris). I contacted Kundera with the proposal to shoot a documentary about him. He responded that he was no longer giving interviews and that had been avoiding media attention and public appearances for several years. Sadly, I had to respect that.
A couple of years ago, I heard how impossible it was to get close to Kundera and make a film about him a that there is simply no way of creating a documentary about him – end of discussion. I attributed this to the typical Czech scepticism, because from my personal experience having met several prominent figures of the cultural world including Miloš Forman, Miroslav Ondříček and Saul Zaentz, they were much easier to talk to than some less successful people who constantly needed to prove themselves and their special position. You only have to find a way to talk to them.
Kundera in the Pleiades
I decided to give it a try because I knew Kundera's novels as well as many texts written about his work and I came up with a concept for a documentary film that I hoped was feasible even if we had to suffice with the talking heads of literary scholars. Legends are circulating about Kundera's private life and there were many questions as to why he remained silent on specific topics, why he was opposed to having his French texts published in Czech, and what was his actual relationship to Czechia. My main aim was to try to pin down what made his texts so renowned and acclaimed all over the world and why even exclusive book sellers included Kundera among French authors. His collected works were published in the Pleiades, a monumental editorial collection comprising mostly the complete works of late French authors. However, Kundera's texts were featured as part of this prestigious edition twice and still during his lifetime!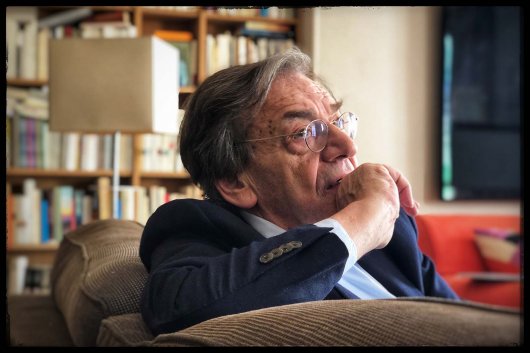 Alain Finkielkraut. Photo by Martin Čech

I was mainly interested in Milan Kundera's work and as it was not clear at that point who will appear in the documentary, I added a fictional storyline of a young journalist who asks his boss for one more chance. "One more chance?" exclaims the editor-in-chief. "OK, get an interview with Milan Kundera. – But Kundera hasn't talked to media for thirty years! – This is your last chance, go and get it!"
The film follows this young editor who hunts for contacts and meets Kundera's friends who have remained close to him over the years.
From Gallimard to Yasmina Reza
Many of them we met through the Brno-based seasoned script editor Jaroslav Kravka. And it is thanks to him that our documentary features such brilliant experts as Milan Uhde, Tomáš Kubíček, Mojmír Jeřábek, Sylvie Richterová, Kundera's student at FAMU Karel Fuksa, as well as Tomáš Sedláček, a long-term editor and collaborator of Czech Radio Brno and also the author of the only Czech radio interview with Milan Kundera and his wife Věra recorded after the revolution. We also visited Stanislav Moša, Roman Onderka, who accorded Milan Kundera with Brno honorary citizenship, and Kundera's French teacher Ms. Vostrá.
Milan Uhde guides us through Kundera's life and work in former Czechoslovakia, together with another student of Kundera's at FAMU, Karel Steigerwald. They are accompanied by brilliant literary historian Jiří Brabec – a former colleague of poet Jaroslav Seifert and a lecturer at Prague's Philosophical Faculty – and actor Jiří Bartoška, associated for decades with the role of Jacques in Kundera's play Jacques and His Master. Unfortunately, due to their old age, I could not include interviews with directors Antonín Kachlík, A. J. Liehm and Zdeněk Kaloč. We were very much aware that most of the people from Kundera's circles were around eighty or ninety and that time was running out. For example, when we were shooting with Tomáš Sedláček in autumn 2018 he was in great shape but to our great regret, he died just a year later. The shooting was also hindered due to Czech Television that was interested in co-producing the film, but the topic didn't get on its program board's agenda until two years later– in June 2020.
As a matter of fact, most of these people mentioned our documentary to the Kunderas during their frequent phone calls. And they must have been really kind in their references because one day, I got Věra's phone number. She told me that shooting with Milan was out of the question and that I couldn't count with it but she referred us to big names including publisher Antoine Gallimard, screenwriter Jean-Claude Carrière, playwright Yasmina Reza, actor Nicolas Briançon, philosophers Alain Finkielkraut and Bernard-Henri Lévy, writer Jean-Paul Enthoven, literary scholar Guy Scarpetta and journalist Florence Noiville from Le Monde, whose apartments and offices we visited with our film crew. They all shared their personal stories, insight and passion for Kundera.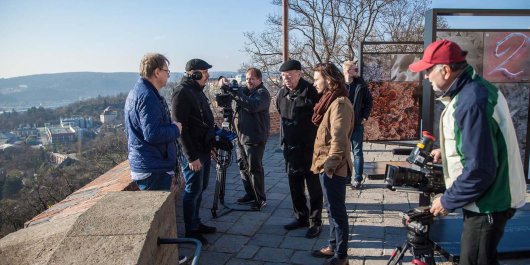 Shooting in Brno. Photo by Jakub Jíra

We managed to capture so much exclusive footage that there was no longer the need for a "buck-passing" plot with a fictitious editor. However, the young protagonist was present during most of the recorded interviews and also asks questions. So we kept his part but put him in a slightly different and more concise context. The effect of "talking heads" is compensated by the film's visual concept, rich documentation, interesting facts and insight of the speakers. And I am happy for the choice of a widescreen format that gives the documentary a more "cinematic" touch.
How Kundera burnt lunch
What is lacking in our film are family scenes, discussions between Milan and Věra about translations and the Czech version of his latest novel The Festival of Insignificance, as well as the typical Czech humour present in their home. Milan Kundera still has a Moravian accent and sometimes replies in Czech even to French people. He greets Czech visitors with a spark of joy in his eyes. I would indeed be more than happy to be able to record at least one of our phone conversations. With Věra, we once arranged a call at one in the afternoon but she happened to be cooking lunch at that time. She told Milan to make sure the sauce does not get burnt and was giving him instructions during the call. But unfortunately, our interview was over in twenty minutes after she went back to the kitchen only to find out that Milan was stirring the wrong pot.
Like a comedy scene: they both were laughing at the situation, referencing Fellini's movies and saying that Federico would be the only director allowed to adapt The Festival of Insignificance for the big screen. When I got off the phone, I knew that the recording of the call would have been a sensation. And I said to myself that I will be ready to visit Paris month by month and maybe I will get lucky. But the same week, Milan Kundera broke his thigh bone in three places, had a complicated surgery under general anaesthesia followed by a long recovery during which he could not use his legs and leave home, which put an end to all plans.
I knew that when I go to visit them in Paris, I have to bring lunch – to make up for the one that got spoiled during our phone call. I found out that they both love spa wafers and so with my film crew we got a whole stack. I don't have any footage of Milan Kundera and his wife Věra, only memories of friendly meetings over a cup of coffee or a glass of wine. And I am grateful for them and truly hope that I will not "fuck it up" as advised by Věra. And I believe that our film will help to dispel many of the myths about her husband Milan Kundera.

Translated by Viktor Heumann.