It comes right from the belly
In this personal essay, a Danish sound designer Peter Albrechtsen remembers one of the world's greatest and most unique modern film composers, Jóhann Jóhannsson. This article was written in 2018, shortly after the Jóhannsson´s death, but has never been published.
When Johánn died in February 2018, I lost a friend and a close collaborator through almost 10 years. I worked as sound designer or mixer with Jóhann on four movies and we had three projects lined up for the future. This article was actually originally going to be an interview, and just a few days before his death we were in touch about organizing our talk. It would have been a nice way of going back to the first time I met Jóhann in Copenhagen in 2009. I had been asked to do an interview with him for a Danish magazine, as I was, in fact, a music journalist before I became a sound designer.
The interview with Jóhann was the very first time I met him and I remember vividly that we were supposed to talk for 30 minutes and ended up talking for more than two hours about movies, about music, about art. Jóhann was very passionate about all these things and even though he was generally a more quiet, thoughtful person, he was very talkative when you got him started discussing one of his favorite subjects. He was a generous man and had lots of stories, ideas and experiences to share.
Jóhann told me that his deep fascination with film music started with 2001: A Space Odyssey by Stanley Kubrick. Or more specifically: with the almost 10 minutes long psychedelic sequence towards the end of the film where fluttering colours and abstract landscapes are constantly moving through the frame, while our ears are submerged in the abstract tones from the Hungarian avant-garde composer György Ligeti. A bombardment of the senses and a pivotal moment for Jóhann, who was just five years old when his father took him to the cinema to watch this renowned science fiction classic.
"I clearly remember me sitting there constantly asking my dad what was going on. And I remember my dad trying to figure out what to answer."
Jóhann smiled when he said things like that. He had his own low-key, wonderful humor which may surprise people when they listen to his often somber, dark and very serious music. Another funny moment I often remember was when a director asked him for a positive, beautiful piece of music. When playing back his first sketch to us he said: "This is what we call happiness in Iceland". I replied: "Well, this is what's called dark melancholia in Denmark". He laughed.
A few days after the aforementioned interview I got back to Jóhann and asked if he would be interested in scoring Copenhagen Dreams, a feature length documentary by Danish director Max Kestner. It turned out to be a truly wonderful collaboration and as always, Jóhann brought the film to another level. It was the first of several Danish documentaries which Jóhann worked on while living in Copenhagen and every film had its own musical identity. No matter what he worked on, be it small budget or big budget, documentary or fiction, he went all the way – his music always connected with the very DNA of the story, the characters, the emotions. He scored films from the inside and his music had its own singular identity.

Copenhagen Dreams

A lot of film music is about scoring the immediate action of what we see. You can often figure out in advance how the music sounds in a movie, no matter if it's a horror film, an adventure film, a love story, a drama or a comedy. There's a certain vocabulary and a lot of clichés in the soundtrack world. Jóhann went to great lengths to avoid all these, and for every project he did he experimented a lot with sounds, with different instruments and not least with the way the music was used in the film.
I remember being called up by Jóhann back in 2013 when he was working on Prisoners, his first big US project and his first film with Canadian director Denis Villeneuve, who would later become his closest collaborator in Hollywood. It was one of the last projects Jóhann did in Copenhagen before moving to Berlin and he asked me to come around his studio to check out a sequence he worked on. It says a lot about Jóhann's refreshing modesty and openness that he wanted my input in the creative process when working on a multi-million dollar Hollywood production.
He showed me one of the climatic scenes in the film where Jake Gyllenhaal is driving in a car through the rain, trying to save the life of a child. It's the kind of scene you would usually score with dramatic, pounding music in order to make the whole thing as thrilling as possible. Jóhann had done the polar opposite: the music was almost like a requiem, an airy, fragile, melancholic piece which reminded me a bit of the Estonian composer Arvo Pärt. It changed the scene dramatically – the sound design took care of all the action effects, the whooshes, the screeches, the stinging rain and then the music told a totally different story, going into the nerve system, the very soul of Gyllenhaal, making the sequence incredibly moving and powerful. Masterful. Pure genius.
Where did this come from? In his own words, "it comes right from the belly – for me, music is a very instinctive and intuitive thing." And sure enough, for Jóhann, music was not about being a virtuoso on any instrument. It was about the emotion.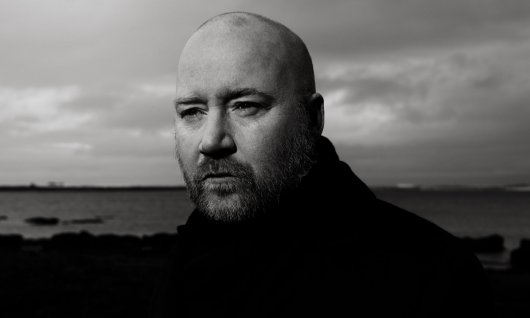 Jóhann Jóhannsson. Photo Artcam

He called himself autodidact: "I studied piano and went to music school until I was 18 but that's not an essential part of how I work as a musician. I got more out of studying literature at the university – that has more relevance for what I'm doing. I've always worked very visually with music. I often start a project by having an image in my head, even when I'm doing solo albums. My own records are small novels in a way," he said, referring to his career as a solo musician - his latest album, Orphee, was released in 2016.
"I've always played music," he told me. "My parents had an organ which I played when I was five-six years old and later we got a piano. Since then I played the trombone in a horn orchestra and was a member of several bands, but it wasn't until later that I decided to focus exclusively on being a musician. Some people start out early or at least debut when they're 20 but I didn't really start making my own music until I was 27. I was a bit slow," he said with one of those special warm smiles of his.
He may have started out slow, but what a career he then had! With his personal way of mixing orchestral music with electronic sounds he was a pioneer of the neoclassical movement. Johánn, however, didn't care much about that sort of praise. He hated award shows and the glamorous part of the business. Of course, getting nominated for two Academy Awards changed his career – first for Theory of Everything in 2015 and then again the year after with Sicario. The all-important thing for Jóhann was all the possibilities he got because of the success – suddenly he could do pretty much everything he wanted and had enormous resources for experimenting.

Theory of Everything

In Berlin, he established a big studio complex where he was surrounded by a handful of brilliant musicians and assistant composers who would constantly help and support him. For the ferocious yet desolate sound of Sicario, he hired a symphony orchestra in Budapest for a week just to create special sounds for him. When he was hired to do Blade Runner 2049 he spent weeks in Iceland recording different abstract elements and percussive sounds for the film – he played me a bit of his music and it was truly mesmerizing. It was very different to the final synth score by Hans Zimmer and Benjamin Wallfisch who took over from Jóhann during the process and created a soundtrack which was much more in the vein of the old Blade Runner music.
A constant internet rumor after Jóhann's death was that he was deeply frustrated with the Blade Runner 2049 process but there was no bad blood between Jóhann and the director Denis Villeneuve. Just a few days after Jóhann's passing they were supposed to meet about Villeneuve's next big project, 'Dune'.
Jóhann wanted to continuously explore sonic possibilities and bring his music to a new level. His primary focus, though, was always the story of the film. Last year, he spent almost a year writing the score for Darren Aronofsky's Mother, and at some point realized that the film was better with no music at all. He proceeded to convince Aronofsky to delete everything. It takes a real, selfless artist to realize the piece is better without you. That's the kind of artist Jóhann was. He was actually considering turning the score into an opera instead!
Jóhann was constantly working – often day and night – he truly was a non-stop workaholic. Especially after moving to Berlin he went all in on creating music all the time and this combined with a busy touring schedule became too much in the end and on February 9 his heart could no longer keep up. It's the dark side of having the enormous ambitions Jóhann had. So incredibly sad.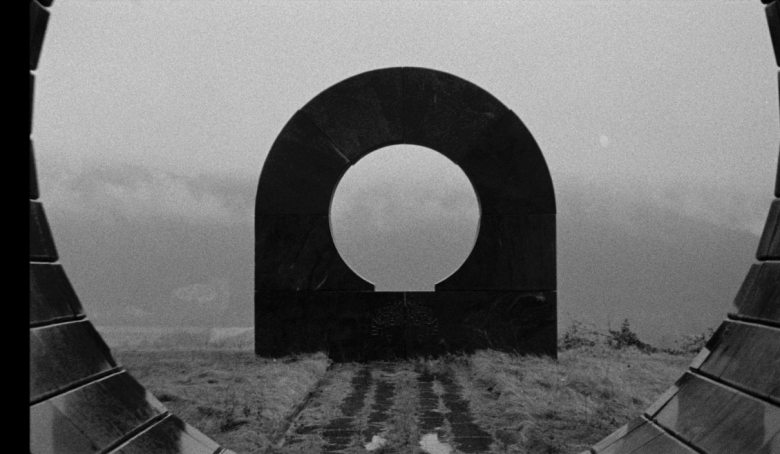 Last and First Men. Photo Artcam

One of his last projects, which might still be released, is a feature length adaptation of Olaf Stapledon's 1930 sci fi novel Last and First Men. Johánn not only scored but also directed the film, which is narrated by Tilda Swinton's unique voice. It's an abstract piece but just like much of Jóhann's music it moves us beyond words, beyond logic, embraces you in ways that are difficult to put into writing. As was said at Jóhann's funeral in Reykjavik: "Jóhann is no longer here, but his music will stay with us forever"
Jóhann was a true poet at heart. So a quote from Olaf Stapledon's novel Last and First Men seems like a fitting end to this article about an artist who was one of a kind:
"But one thing is certain. Man himself, at the very least, is music … It is very good to have been man. And so we may go forward together with laughter in our hearts, and peace, thankful for the past, and for our own courage. For we shall make after all a fair conclusion to this brief music that is man."