I Just Wanted to Record the Workplace I Am Part of
An interview with Aitziber Olaskoaga, whose mid-length documentary Smiling on the Phone received the Special Mention from the sole juror of the Opus Bonum section,Claire Atherton at the 20th edition of Jihlava IDFF.
The Spanish filmmaker Aitziber Olaskoaga made a movie from recordings of her workplace in a call-centre in the Netherlands, where she worked to make a living. After her return back to Basque Country she started to edit her recordings for her thesis. She made the entire movie herself except for the sound mixing. The jury of the Opus Bonum section at the 20th Jihlava IDFF decided to award her movie Smiling on the Phone with a Special Mention. In our interview we talk about her 'being-invisible method' of shooting and ethical dilemmas that emerged during the editing process.
Where did your idea to shoot a documentary film come from?
I'm interested in producing auto-representative documentary practices and methodologies in which inexpensive technology is used (phones, compact camera, etc.) with the purpose of making our struggles visible. Throughout the years, I've been documenting different underpaid jobs that I've had through photography and video but I've never done anything with the material, so this project happened in a very natural way.
Why did you decide to work in call-centre in the Netherlands?
I moved to Amsterdam at the end of 2012 because I was granted a scholarship to work as an intern at the Eye Film Institute. Seven months later, when my scholarship and contract ended, I refused to stay doing the same job for an intern's pay check (around 300 EUR a month for a fulltime position). I decided to stay in the country because the economic crisis in Spain was devastating and couldn't picture a future for myself there, but it was impossible to survive with such little money, so I started looking for a job elsewhere.
It took me about 5 months to find one, since my knowledge of Dutch was very limited. I got hired at Stream because I spoke Catalan, Spanish and English. I was going to be part of the nike.com customer service team, answering calls from Spain. The brand was about to launch hundreds of products for the Barcelona Football Team and they expected calls from Catalonia, so they needed people that spoke the language. When I went to their offices for the interview and the language tests, I immediately felt depressed by the working conditions, the space and the policies of the company.
That's how I started recording, to combat boredom and to document my precarious working conditions at a multinational company that provided call-center services to other large corporations such as Nike.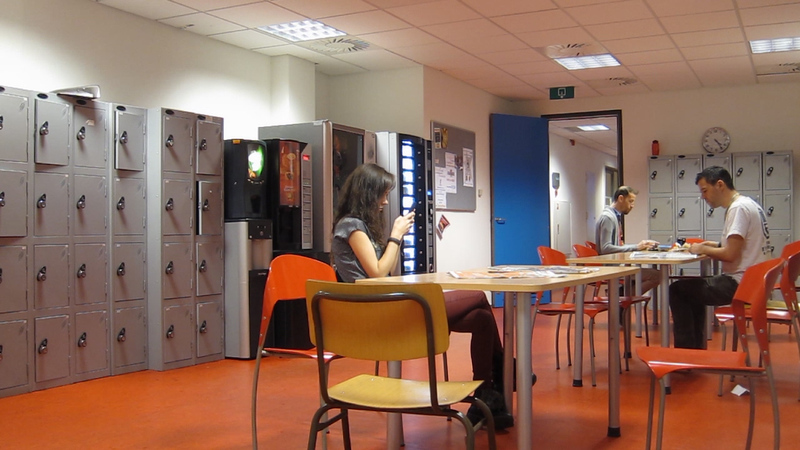 Smiling on the Phone (Aitziber Olaskoaga, 2016)
What was the main reason to shoot a movie about working conditions and space in big corporations and call-centres?
Call-centers are a great description of our contemporary labour market: large corporations that make huge profits while paying minimum wages, precarious and unstable working conditions and often highly educated and skilled workers.
I felt depressed working for a company that paid me minimum wage while living in a city with a high cost of living and which language I could hardly speak, so my only motivation to go to work was to record my workspace and my co-workers.
When I moved back to my hometown in the Basque Country in March 2014, I decided to make a piece with the footage in order to get my college degree in film, and I started working in Smiling on the Phone as my thesis.
What was the biggest problem you had to deal with during the shooting process?
My biggest concern was to be unnoticed when recording, in order to be able to continue shooting. I never asked for permission and although there were no signs that banned cameras, I knew that someone would be pissed off if they find out, so I had to be very careful. I used a very little digital photography compact camera which was the size of a package of cigarettes. That helped a lot in terms of being invisible and not taken seriously.
There are many obstacles when it comes to creating work-related images and the biggest one, I believe, is the legal prohibition. This also applies to public, educational or consumerism spaces, and points out the political weight of those representations and how the power structures are fully aware of it. If we can't produce images in those spaces, what are we supposed to record/photograph?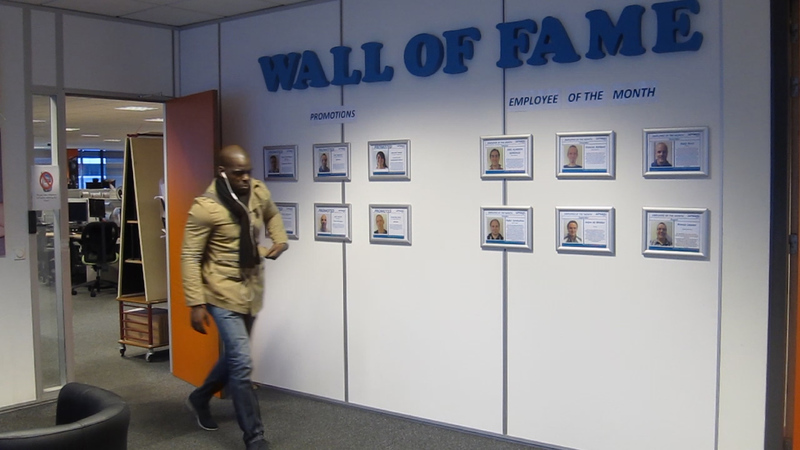 Smiling on the Phone (Aitziber Olaskoaga, 2016)
Did you look for any producer?
I produced the movie myself. I shot the footage in Amsterdam, edited it in Bilbao while I had the unemployment subsidy from the government and lived at my mother's place, and then finished the sound in Los Angeles, where I paid a professional to do that. The money for the sound designer and the music composer came from the monthly stipend of a scholarship from the Spanish government that I got last year to come to the USA.
Did you try to find any co-producer?
I'd never thought about looking for a producer because this was a very modest project, with no budget at all, and I did everything on my own. I thought I'd be able to get a grand from an organization that finances cultural and artistic projects in the Basque Country, but it didn't happen. I was able to work on it because I had fourteen months of unemployment
subsidy when I went back to my hometown. So in a way, the Spanish government has been the co-producer of the film.
Can you describe he development process a little bit? Did you use a script or anything we can call a script?
I tried to shoot as much as possible during the two months that I worked at Stream. As I've said before, at that point, I didn't know what I was going to do with the footage but I had the urge to document my daily life at the company as much as I could. So every day, when I got home, I would watch the images that I had recorded and would decide what I was going to do the next morning. I didn't have a script and I hadn't thought about incorporating text yet.
When I moved back to the Basque Country right after quitting my job in Amsterdam, I decided to make a film with the material I had and was very lucky to be able to choose Elena Oroz (a Spanish researcher, teacher and film critic) as my mentor. That's when the editing process started. We would have meetings on Skype and discuss the project, the editing and so on.
I think it was around the third version when I decided to add text. It helped a lot in order to create a structure and it provided the images with context.
So, you do not work with scripts in any way?
I'm impulsive and a bit chaotic and have no patience to sit down and write something that I'm going to have to follow later on. The way I work is creating images around concepts, people or places or just documenting my daily life and struggles.
I envy people that are much more organized and can do that, as they save a lot of time and headaches. In the very near future, I'd love to work with someone that has a clearer vision of what they're doing from the beginning.
Did you show your film to your protagonist? How did they react?
Unfortunately, I've lost contact with almost everyone who worked there and they haven't seen the film. I've been trying to get in touch with one of the girls who appears several times in the film and it has been impossible. I hope that in the following months I can show the film to at least a few of the people that are in it.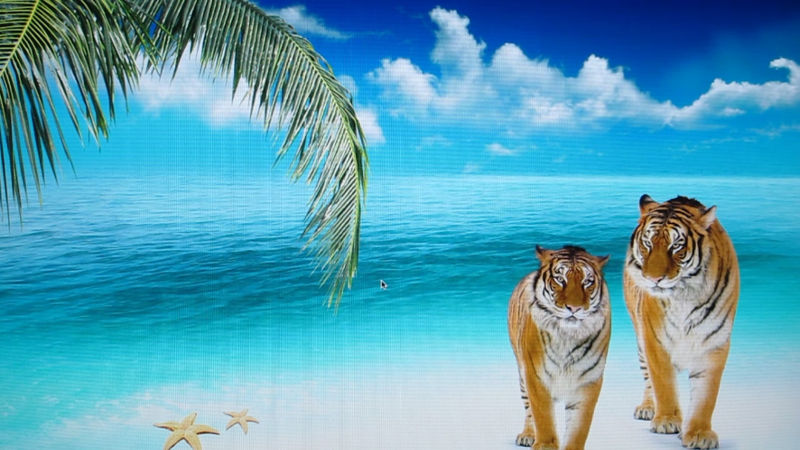 Smiling on the Phone (Aitziber Olaskoaga, 2016)
Had your colleagues agreed with shooting before it started?
One of the boys who worked with me told me that he didn't want to be part of whatever I was going to do with those images. Again, at that point, I didn't even know what I was going to do with them, but it felt as if he was demonizing the fact that I was documenting our precarious working conditions, so I never used any footage in which he appeared.
Sometimes I would ask people if I could record them, like Richard, the man vacuuming the carpet, and others, I didn't know if they knew whether I was doing it or not. Very often, I would sit to have lunch and leave the camera on top of an object and seconds/minutes later, people would enter the frame. One of my principles was not to hide the camera, so it was always visible, but some situations were ambiguous.
Did you have any ethical dilemma?
For sure. One of the chat conversations in the film is exactly about that, about producing images in which there are people that don't know they are being recorded and the ethical issues around it. I have a clear conscience because I'm not taking advantage of those people, neither making fun nor humiliating them. I documented a space that I belonged to, speaking in first person. At the same time, I want to let them know that they are a very important part of the film and it would make me very happy if they liked it.
Do your colleagues still work in the call-centre?
I have no clue but I hope they don't. Most of them were very young and we would talk all the time about how much we hated to be there, so I really hope they are doing better somewhere else.
Was there any law problem with the Nike's call-centre?
Nike has not complained yet. Maybe they'll read this interview and sue me, who knows. I haven't made a penny out of this film, so I'm not worried at all.