FREM
What is it like to shoot a film in Antarctica? Is it possible to get into the head of artificial intelligence? And what is GAI? All this is described by the documentarist Viera Čákanyová in the text she wrote about her new film FREM in dok.revue.
I was inspired to shoot FREM by a thought/consideration that we live in a period when we, as a biological species, meet limits of the matter we are made of, and look for ways "to improve ourselves" or to expand from natural limits. We generate a huge amount of data we are no longer able to absorb, orientate ourselves in or put connections together, which results in creating artificial neuronal networks that should do all those things instead of us. To a certain extent, they are autonomous and we do not exactly know what happens in them since they have already started to use their own patterns of thinking.
In fact, we stimulate a carbon revolution on the basis of silicon and hope that the silicon will save the carbon and will help us to solve more and more complex problems we make. The aim of the effort of this silicon evolution is the so-called GAI – general artificial intelligence, Holy Grail the researchers in the field of artificial intelligence form an attachment to. By saying "general" we mean that it will be able to learn and develop by itself and will also be able to generalize its information and use it for solving various problems. Its intelligence is going to increase exponentially until it reaches the so-called "technological singularity". At that moment, we won´t be able to keep up with its intelligence anymore. These are the thoughts, a hypothetical situation, which kicked off the film FREM.

FREM

I suppose the most difficult was to get into the head of artificial intelligence whose eyes serve the viewer to look at the world, and do so with limited means offered by the medium of the film (picture and sound). The thing is that it is not possible to get out of the captivity of our own human brain, not to anthropomorphize, to break limits of one´s own imagination. I did not know if I succeed in making people connect to an entity they don´t understand and if I make them want to look through its eyes. That is why there is a narrative line of a person/researcher in the script we shot as the plan A. At the same time I tried to make a film – plan B – which would be a non-anthropocentric one. A film where a human stands on the same level as any other creature in nature, as a stone, a seal or a snowflake. It was possible thanks to the perspective of a subjective camera from bird´s eye view and I believe it is good to master such perspective, at least in connection to climate crisis – to be able to perceive oneself as a microscopic part of nature and ecosystem of the Earth without having any superior position. FREM was shot in Antarctica where climate changes appear more than anywhere. The film has thus gained a kind of dystopian context, looking as a land after human existence, an after-human world from the perspective of a non-human witness/observer.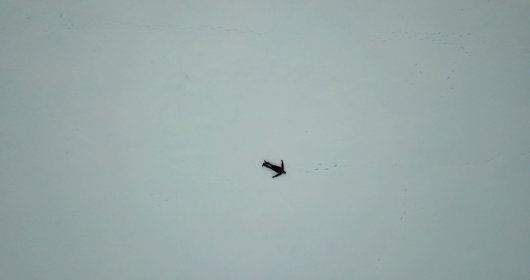 FREM

To shoot this film, which is in fact a documentary sci-fi about sophisticated artificial intelligence, in Antarctica was demanding physically as well as mentally. It meant this in particular: to live in a mouldy ship container without toilet, shower or internet, to climb glaciers in rubber boots, to wash the dishes in salty water from the sea or by licking the plate, to cook on a two-hotplate cooker where only the first degree works, to thaw mineral water for half an hour, to heat for two hours a day at the most with a small electric heater, to dry wet clothes on a line placed in an ideal height above the heater to have it at least a bit ready after two hours, every morning to wake up into stable 0 degrees Celsius we got thanks to breathing out into our 2.5 x 6 x 2.5 iron box during the night, to wait for food supplies from a Polish base until sea currents slowly wash away drifted pieces of ice, making disembarkment from a rubber boat impossible, from the shore, to hear night weather forecasts from a walkie-talkie – which was the only possibility to hear, at least for a short moment, another human voice than mine or the other two persons´ from the container (the crew consisted of 3 people), to decide between using energy from the generator to charge batteries or to cook an instant soup, to eat countless packages of the same instant soup – zupy pieczarkowej – because the Polish cook lacked any creativity during preparation of our supplies, to fly with a Chinese-made drone in wild winds and to lose it twice – the GPS shows appearance of its last signal in a snow-white darkness. Such was the everyday reality of our container. Yes, it was a bit absurd.

Translated by Petra Ocelková