Fascinations: Uprooted
Daniel Walber, the film critic from Nonfics on the Fascinations program Uprooted.
Synthetic Free is brief, but entrancing. Filmmaker Yoshiki Nishimura has taken footage of waves lapping up on shore and created what looks like a digital negative. Black-and-white pixelated water ebbs and flows, crests and crashes. They are still waves but no longer of water, still cyclical but no longer predictable. They have become waves, not of any ocean, but of time.
After all, cinema is an art of reshaping time. This can be particularly true of experimental and documentary cinema, which often deal with both durational and historical time. The films featured in this program approach this from many different angles, ranging from the intimate passing of seconds to the grand sweeps of history. It is always present, but it rarely signifies quite the same political or emotional message.
Space Shuttle Challenger 1), for example, tries to make sense of time by showing the ways that it marks individuals and nations. Filmmaker Cecilia Araneda begins with the titular NASA disaster, including dramatic footage of the shuttle exploding over Cape Canaveral. But she soon moves on.
With narration and archival images, Araneda blends her personal timeline with that of the wider world. She speaks of her own time growing up in Canada and her mother's time in Chile. She introduces a Canadian photographer who made his way around the world covering coups, only to finally lose his life in the 1973 taking of power by Augusto Pinochet. The youthful drama of the playground is placed next to the confinement of Omar Khadr at Guantanamo Bay. We are challenged to consider our own histories, to further understand simultaneity and perspective.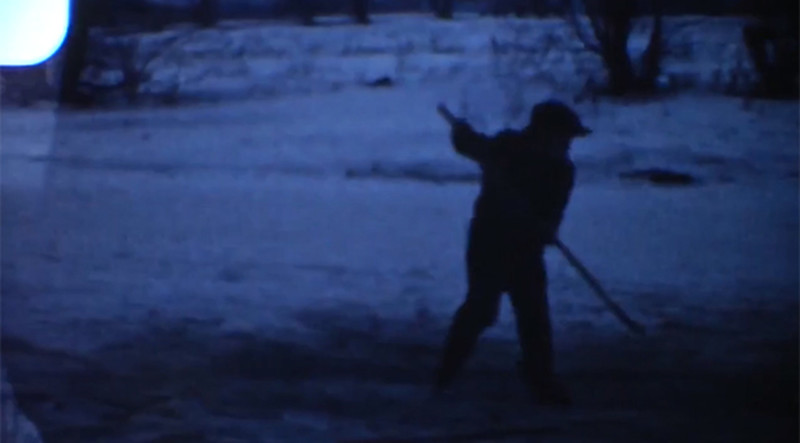 The Space Shuttle Challenger (Cecilia Araneda, 2017)
Marking time, after all, can be a political act. This is certainly true for Peter Lichter, whose 8th October 2016 2) is a burning response to the repression of journalism. The date stands for the last publication of Nepszabadsag, Hungary's biggest opposition newspaper. The material of the film is the paper of the last issue, physically fragmented and set ablaze. It's a memory on fire, an insistent artistic declaration defying political erasure.
This same laser focus emerges in Disintegration 93-96, but with a nearly opposite strategy. Filmmaker Miko Revereza uses footage as a conscious and demonstrative escape from the reality of his situation. Brought to the United States as a child from the Philippines, without documentation, he is part of a group of young immigrants recently dubbed "Dreamers." With the Obama administration's efforts to give them a path to citizenship now revoked, they live in a legal limbo.
Revereza is very upfront about this piece of his identity, exploring how growing up in California under these circumstances shaped his relationship with his father. But the home movies of their first few years together in America, the titular "93-96," are images without politics. These warm scenes of family life mark a strong contrast tothe social assault on immigrants, they appear almost idyllic. Revereza uses the joys of the past to soften the blows of the present, though without neglecting its urgency.
After all, multiple realities can be true at the same time. Time isn't linear, at least not cinematic time. This is the point of Tangled 3), a brief and deeply allegorical film that serves as a fascinating foil for the rest of the program. Jaik Pille Riin presents just a few minutes of sewing, very close shots of hands at work. Needle and thread dance across the screen.
They evoke the Moirai of ancient Greek mythology, the three old women who spin, measure and cut the threads of life. Their power is emphasized, not by the closely composed images, but by the sound. Mysteriously, although the sewing on screen is with a needle, the malevolent thrum of a sewing machine ceaselessly pounds in the background. It adds a layer of dread, suggesting not only the power of the Fates, but also the much more visceral thought that the mechanized needle might slice through a finger. Time, whether sewn into cloth or compressed into a short film, must be handled with care.
---
Poznámky:
1) This movie was moved to the Fascinatons: Universes after the article was written.
2) This movie was moved to the Fascinatons: Trajectories after the article was written
3) This movie was moved to the Fascinatons: Trajectories later the article was written
---
Daniel Walber

Daniel Walber is a freelance writer based in Brooklyn. He has written for Nonfics, Film School Rejects, Movies.com, Film.com, and The Brooklyn Rail. He holds a BA in History from McGill University and an MA in Cinema Studies from New York University. His favorite documentaries include Paris Is Burning, Portrait of Jason, F for Fake and everything directed by Werner Herzog.