Every human being should get to wear comfy shoes
The Czech documentarist Karel Vachek was a chairperson of the jury at Yamagata international documentary film festival (YIDFF) in 2009. The board member of YIDFF and the former director of this festival, Asako Fujioka, has a remembrance of him smoking his pipe and going to the mountains with Japanese poet and filmmaker Yoshimasu Gozo to recite poetry to the skies.
What strikes me as I review the official records of Karel Vachek's visit to Yamagata is how reasonable, politically correct, and proper he appears. This white-bearded wise-looking old man from the country of Bedřich Smetana, that composer whose symphonic piece Vltava (The Moldau) from Má vlast (My Fatherland) can be sung by heart to this day by every Japanese person who received elementary school education in the 1980s (it's a fact!); furrowed brow looking across the auditorium on stage with a filial son who accompanied him all the way to Japan to translate for him (what a respected father!); his film is very long, but they say it is a biting critique of post-1989 Czech society (a hero of the legendary Prague Spring?!)...
In fact, when the opening day of the festival coincided with the forecast of a huge typhoon heading straight to Yamagata, all Shinkansen express train services were canceled and the festival volunteers who had to rush about the airport and train stations lost track of the nearly one hundred guests coming in from overseas, Mr Vachek and his son (no doubt exhausted after their 15-hour flight) were indeed stranded with their suitcases among crowds who had no idea where to go. As film festival director, the first news I got from my staff about the jury chairman was "Mr Vachek refuses to attend the festival and says this is the worst day of his life."
Obviously I have only sympathy for him, his first encounter with Japan becoming a distressing meeting with chaos. The lines that he wrote for the festival catalogue say: "One major source of inspiration for my work has been Zen Buddhist teachings (i.e., we can become one with the Universe even in our everyday activities such as washing the dishes). In the 1960s, when I was learning the trade of cinematography, I happened to stumble upon a Czech translation of Matsuo Basho's haiku poetry. In fact, my personal theme is also the unification of spirituality and the reality of our being. (Every human being should get to wear comfy shoes, and I pray the same for this film festival!)"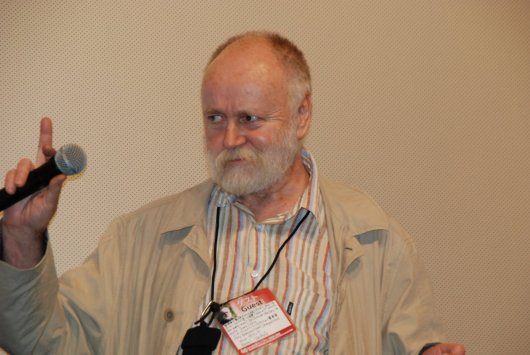 Karel Vachek at festival in Yamagata. Photo: Yamagata IDFF
From typhoon to the festival jury
After a night of rest after a belated three-hour train ride to Yamagata (I believe he canceled his attendance of the festival opening), he did change his mind and joined a jury breakfast with Nurith Aviv, Garin Nugroho, Wu Wenguang, and Yoshimasu Gozo.
Nurith is a pioneer female Director of Photography who worked with Agnès Varda and Jacques Doillon, Garin is Indonesia's most prominent filmmaker (Opera Java) whose work negotiated the complexities of his country, documentarist Wu Wenguang's groundbreaking work in documentary and performing arts opened doors for China's independent film movement, and Mr Yoshimasu is a renowned and celebrated Japanese poet whose wide range of work since the 1960s includes photography, performance art, and filmmaking. In other words, this was a group of tough self-made artists who had each broken new ground for creativity in their societies. But little did they know what was coming when they agreed to choose the grumpy Karel Vachek as their chairperson of the jury, out of a respect for the elderly (but I see that Mr Yoshimasu was born 1939, one year before Mr Vachek... how did that come to be?).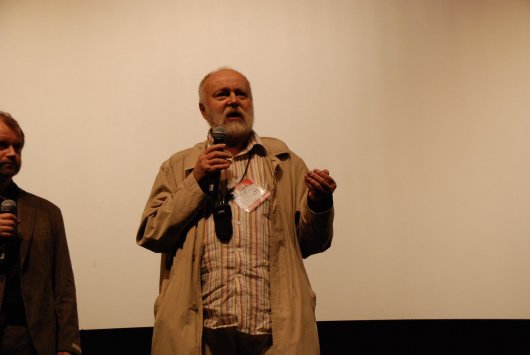 Karel Vachek at festival in Yamagata. Photo: Yamagata IDFF

This pretty impressive group of individuals got together again at the end of five days watching fifteen films in the International Competition. After a marathon seven-hour discussion involving interpreting into Chinese, Indonesian, and Czech, many cigarette breaks that included attempts at backroom maneuvering, hands thrown up, scenes of tense silences, lengthy rhetorical speech, and perhaps a few moments of nervous laughter, the awards were confirmed.
At the awards ceremony, Mr Vachek on stage read from his statement: "This was an international jury with different backgrounds and countries working with a very varied lineup of films. We discussed for seven hours. No blood was shed. We are expecting the same for the future world."
The Robert and Frances Flaherty Prize (The Grand Prize) went to Encirclement—Neo-Liberalism Ensnares Democracy directed by Richard Brouillette, an unglamorous 160-minute film in black and white that analyzed and critiqued the theories and institutions that sustain Neo-liberalism. Composed completely of lengthy interviews with scholars with little "visual lubricant" and not "using fast-paced editing to make it artificially dynamic, giving it a deceptive air of objectivity, or eluding complex topics" (in the director's words), the announcement drew gasps of surprise from all.
A pipe aficionado
My favorite episode with Mr Vachek involves his pipe. I think I was able to win him over after the initial bad impression with the typhoon when I arranged for him to meet with our festival chairman Okubo Yoshihiko, kind of a head honcho of Yamagata arts and culture and the stately son of a legendary mayor. Mr Okubo was a pipe aficionado, like Mr Vachek, and knew exactly where to take him. At Kunii Liquor Shop, he was able to buy a Japanese-made pipe, which was perhaps what film audiences saw hanging from his mouth in the Q&A session after the screening of the colossal 242-minute film Who Will Watch the Watchman? Dalibor, or the Key to Uncle Tom's Cabin (Kdo bude hlídat hlídače? Dalibor aneb Klíč k Chaloupce strýčka Toma, 2002) complete with Japanese subtitles. The staff who tried to remind him that smoking was not allowed on stage, managed to persuade him at least not to light the pipe…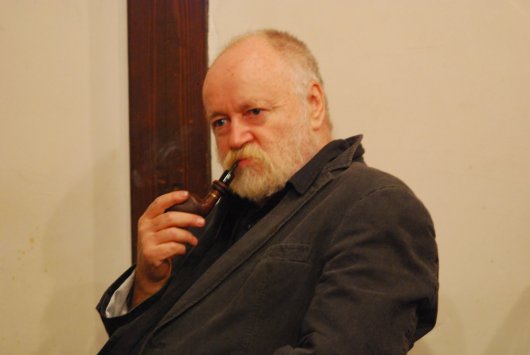 Karel Vachek at Yamagata film festival. Photo: Yamagata IDFF
Mr Vachek's love for the 17th century poet Basho sparked an idea of filming on the last day of his stay. Yamadera, a scenic mountain temple known for Basho's haiku about silence and the singing of insects seeping into the rock, was where he persuaded fellow juror Mr Yoshimasu to cancel other plans to take him. From what I heard from his son who suddenly had to rush about to procure a video camera, Mr Yoshimasu was asked to get down on his knees and recite poetry to the skies. I regret to this day that I could not be there to witness the two septuagenarians making a film together amidst the wind and the soil and the voice of the mountains.
Mr Yoshimasu says in a later interview: "After the jury meeting, the Czech juror Karel Vachek took me to Yamadera where I experienced being in front of his camera for his film in production. That's what I call planting a cutting – you know how you attach a sprig to another branch and it grows into a hybrid form. I feel that the Yamagata film festival cradles such wisdom at a very deep level."
It was not the film festival, but the maverick of Karel Vachek whose unconventional otherness left a mark in the history of Yamagata.