Thor Heyerdahl: In Jihlava and in Today's World
"Borders? I have never seen one. But I have heard they exist in the minds of some people."
A few months ago, a retrospective about Thor Heyerdahl seemed a safe programme selection: a tribute to a twentieth-century icon, an excursion through high-quality archives. Heyerdahl, a famous Norwegian adventurer and much-discussed scientist, who won an Oscar for his film KON-TIKI, always triggered controversy. His last unfinished project in Rostov-on-Don even led scientists to denounce him. Heyerdahl had to defend his archaeological project and explain to local academics why he wanted to look for artefacts establishing a link to the Nordic god Odin in this area. He claimed Odin was a historical figure, not a mythological hero. After his lecture, the academic panel convened for deliberations. The result? Heyerdahl received an honourable doctorate and his dig was approved.
Even 101 years after his birth, Heyerdahl stirs up controversy. A year ago the quote at the start of this article had a different meaning. Now, when Europe is dealing with the issue of refugees, this innocent statement is raising blood pressure. Maybe, as we watch his films, we will ask not only about the origin of all peoples but also where to find the foundations of human identity. And how these two concepts – origin and identity – may clash when civilisations start to mix.
As a small boy in Larvik, Heyerdahl almost drowned and was afraid of water, but he became a seafarer. Although afraid of heights, he was a volunteer paratrooper during the war. He ignored obstacles, external and internal. He paid very little attention to political and geographical borders. For him, oceans weren't an impassable chasm, but rather a link between human cultures.
During his career, he worked with Czechs three times. First, he helped the composer and adventurer Eduard Ingriš build Kantuta, the raft with which Ingriš followed the path of the KON-TIKI expedition across the Pacific. Next, he invited Pavel Pavel on an expedition to Easter Island, so that the Strakonice native could test his theory about how the moai were moved. Lastly, in the late 1990s, he started working with my film crew. Up to the time of his death, we created the most comprehensive existing series of interviews about his life and his expeditions. At the time, I had no inkling that our collection was the only one of its kind – it was not until this January that Jacqueline Beer Heyerdahl informed me of this fact.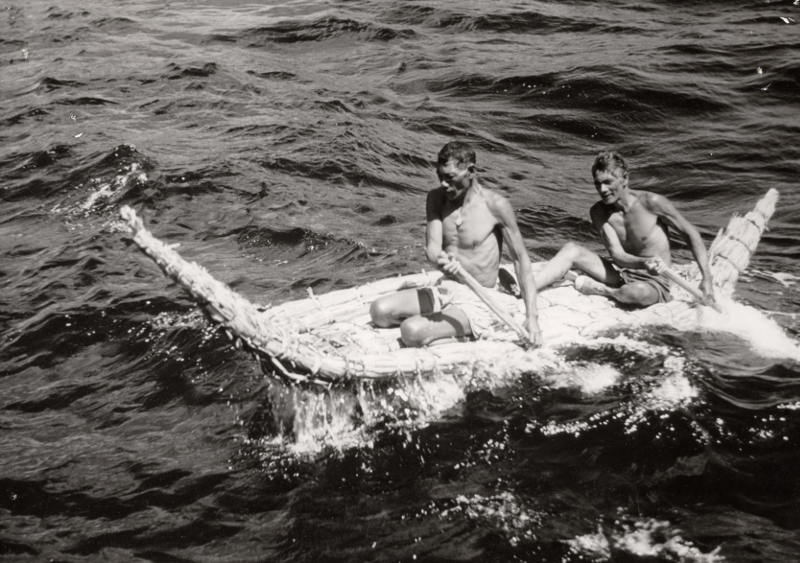 Aku-Aku (Thor Heyerdahl, 1960)
Thor Heyerdahl died of cancer in 2002. His last message was: "I am dying after a long beautiful life. There is no reason to grieve needlessly. I was happy here and I've been here long enough."
For many, Heyerdahl is more an adventurer and celebrity than a scientist. Filmmakers say he is a travel writer rather than an artistic creator. Some believe that future scientists will overturn Heyerdahl's theories about prior links between cultures. However, it is possible that the future will bring Heyerdahl's ideas into a new context. Seventeen years ago he told our film crew: "We face a larger problem than those before us. Until the Middle Ages there was always another culture somewhere on our planet, prepared to take over civilisation and develop it. But today, there is none. So we must maintain our civilisation on a tired planet."
In conclusion, in order to not succumb to the scepticism spreading throughout society, to not fall victim to the fear that our European era has finished and that we face a period of war and unrest, to not forget the most important thing that stands at the forefront of every action, every expedition, every film: "Some people believe in Fate, others don't. I do, and I don't. It may seem at times as if invisible fingers move us above like puppets on strings. But for sure, we are not born to be dragged along. We can grab the strings ourselves and adjust our course at every crossroad, or take off at any little trail into the unknown."